Susan Finlay's Novels
Susan Finlay published her seventeenth novel, Bohemia and Broken Hearts, in April 2023 and is already planning her next three books. One will be the sequel to Bohemia and Broken Hearts. One will be book II in her Tangled Roots II series. The third is scheduled to be the sequel to The Handyman.
HER NEWEST RELEASES:

Berlin and Betrayal:
In this gripping and emotional World War II genealogical mystery, the third in the Tangled Roots series, Lucas Landry deepens his search for answers about his ancestry by moving his family to Munich, Germany for a year.
In February 2020, Lucas Landry's burning desire to bring his large German family together for a family reunion uproots him, his wife, and kids from California and moves them to Germany for a year. Unfortunately, coincident with their arrival and start of new jobs, a worldwide pandemic occurs, throwing the world and Lucas's plans into chaos. With his oldest WWII-surviving relatives in their 80's and 90's being most vulnerable to the disease, Lucas fears a reunion might be impossible.
While Lucas tries to adjust to a pandemic world and protect his immediate family, he keeps busy further delving into his family's German roots. Thinking being in Germany will at least make his research easier, he's in for a surprise. Many Germans want to forget the past, having lived under a cloud of guilt over their ancestors' mistakes. Key relatives want Lucas to just leave it alone. But he doggedly continues digging.
In February 1945, Germany's defeat in WWII is inevitable and ethnic Germans, including Jette Nagel, her Nazi son, and his family, are being chased out of their homes in the German controlled Sudetenland by the Red Army. Dresden, the home of Jette's closest family, is bombed to shambles by the Allies.
Berlin and Betrayal is a historical genealogical mystery with a dual-timeline. It's a story about guilt, betrayal, tragedy, and forgiveness.
Reflections in the Dark:
A group of wary strangers become lost in time and are forced to lean on and trust each other to survive.
Chloe Westbrook, a modern young English woman who has given up on love and on people in general, reluctantly travels during the pandemic to Mythe, France to meet her reclusive grandfather, Frederic Chevalier, for the first time.
Nicholas Drake, a young American hippy who is afraid of commitment and carries a great burden on his shoulders, stays in a bed-and-breakfast inn run by a hippy middle-aged French woman, Josephine Lapierre, in the French town of Belvidere. There, he hopes he can bury his past for a while, or at least stop remembering his mistakes every day of his life.
These four people from two different times get caught in a time portal that catapults them backwards into the year 1880 and into the French village of Reynier, where respectable citizens are forced to live among troglodyte cave dwellers, gypsies, and at least one murderer. Somehow, they must figure out a way to fit in until they can find a way back home.
Reflections in the Dark is a romantic time travel mystery about love, fear, regrets, trust, and redemption. It's the first in a new series, but the settings will be familiar to readers of Ms. Finlay's Outsiders series and her Chambre Noir series.
The Secret Town:
Steve and Claire Jensen, a frightened couple who ran away from the Witness Protection Program, are desperate to protect their young children from the bad men targeting the family and the government officials who want to force them to testify despite the danger. Unexpectedly, the couple gets the offer of a lifetime—refuge in a 'secret' town that is off-the-grid and free of government control. The town takes care of its own; the only requirement is that all healthy adults, except caregivers, work in the town. Soon after they arrive, the family can't believe their good-fortune. The idyllic town nestled in a wooded canyon offers peace and quiet and a small bustling community. But they discover that no place is perfect—government or not, there's always someone in charge. After weeks there, Claire begins to notice peculiarities. What is it about this place that gives her goosebumps? Is there a bigger secret than the town's location, or is she paranoid because of the nightmares she's endured? When Steve begins to notice, too, they don't know if they're both over-reacting, worried over nothing, or if there's a hidden agenda to the 'secret' town.
Bloodlines and Barbed Wire:
Lucas Landry receives an email from a teenager, Mikayla Carson, who thinks her legal guardian and great-grandmother, Elisabeth Hoffman, is related to his great-grandfather, Franz Nagel. She's not certain, because Elisabeth suffers from dementia. Mikayla wants Lucas to help her find out more about her family's past.
As a genealogist, Lucas is eager to untangle the family roots. He travels to Arizona to meet Mikayla, her younger brother, and Elisabeth, and begins reading old Nagel-family diaries, but his eagerness dampens when he discovers Nazis in their bloodline. Further complicating the task, he can't even figure out how Elisabeth is related to those Nagels, and she can't explain, either; her mind is a jumbled mess and her answers to his questions are unreliable.
He returns home, ready to give up until two events pull him back in—his discovery of an old newspaper clipping about the war-time murder of one of the Nagels, and Mikayla's frantic call about the danger of her family being torn apart unless a family member steps in and helps.
Against his wife's wishes, Lucas returns to Arizona and delves deeper into the WWII diaries, learning about a Lebensborn home, a Polish concentration camp, and the tragic lives of three Nagel teens; their father's young mistress; and two nieces. But will those diaries tell what he really needs to know and empower him to help Elisabeth and her great-grandchildren?
Not Expecting This:
Pregnant, running from a bad environment, bounced around in foster care her whole life, and shunned by her father, seventeen-year-old Bailey Blackwood doesn't expect miracles, and it appears as if she isn't about to receive any.
Poor judgment has her accepting a ride from a husband and wife, unaware that she has placed herself in danger, about to be kidnapped. After she finally escapes, Bailey and the couple's dog end up in an abandoned mine that suddenly transports them back in time to an 1878 gold mining town where she meets the town's marshal, Wyatt Hawkins. Wyatt feels for the young girl, but he has his hands full, investigating a murder.
Meanwhile, teenager Ryan Hollander, a modern American who was swept up in a similar fashion and has been living with his family in 18th-century Germany, tries to return home through the portal there, but somehow also ends up in the Old West mining town. Alone and terrified, he fears he'll never see his family again.
When Bailey and Ryan meet, they realize the time portal isn't reliable and any hope of getting back to their time vanishes. Both must face the real possibility of being stuck in the past.
Not Expecting This is a story about family, guilt, regrets, and redemption.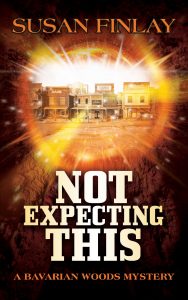 Breadcrumbs and Bombs:
Twenty-eight year old Lucas Landry, a Sacramento, California native, is a counseling psychologist specializing in drug abuse treatment, yet couldn't save his own opioid-addicted father. His feelings about his father and his death get complicated when he discovers his father hid many secrets about their ancestry from Lucas and his brother. Lucas embarks on a journey to find answers: What secrets had his father hidden, who are the Landrys, and where did they come from? Are Lucas and his estranged brother destined to repeat their ancestors' mistakes? A hidden attic in Lucas's father's old Victorian house is a goldmine of memorabilia and clues from the past, clues which seem to lead to Nazi Germany and the former Sudetenland, breadcrumbs to other lives.
Ten year old Christa Nagel is an ethnic German living in the Sudetenland near the Polish border in 1943 with her parents and five younger siblings. When her father is conscripted into the Wehrmacht, leaving Christa and family alone to fend for themselves, she is horrified and worried for him. After a while, though, she's not sure which is worse, fighting in the war or trying to keep their family together and safe. When the war ends, she and her family, as well as millions of other ethnic Germans face expulsion from their home, marched away into the unknown.
Fifteen year old Ilse Seidel, a German girl living in a small Bavarian city, knows more about danger than anyone her age should know. She's survived bombings, lost loved ones, and witnessed Jewish friends being carted away from their homes. She wants nothing to do with the war or with soldiers. Her life takes a dramatic turn when she finds a wounded soldier in need of help.
Lucas is determined to assemble these breadcrumbs, find out how their stories intertwine, and reveal his ancestry. Will what he learns make him feel better about himself and his family, or worse? Breadcrumbs and Bombs is about secrets, lies, prejudice, betrayal, guilt, love, genealogy, and what it means to be a family.
Breadcrumbs and Bombs
Click image or title to go to Amazon
Also by Susan Finlay on Amazon
---
In the Shadows (The Outsiders Book 1)
There is a stranger amongst the residents of the cave-riddled village of Reynier, France. Suspicious, they believe there's only one reason Maurelle Dupre would be lurking in their small village—she's a gypsy, a thief. But a former Chicago detective turned mystery author, Dave Martin, who happens to be visiting his French grandmother, isn't so sure about the beautiful stranger when happenstance causes them to meet. He wonders why she seems so frightened and distrustful. He knows he shouldn't get involved. The last time he trusted a woman in distress, the consequences resulted in the loss of his detective's shield and his wife. But, as always, the detective in him can't seem to leave well enough alone.
However, what Dave couldn't know is how persuading Maurelle to reveal herself will ultimately unveil something far worse than mere theft.
In the Shadows is a story of trust, belonging, and murder. It's the first book in a mystery and suspense series.
---
Where Secrets Reside (The Outsiders Book 2)
In Reynier, France, a sleepy hillside village peppered with ancient picturesque troglodyte cave dwellings, the locals value their privacy and their quiet life. Few tourists know it exits, which suits the locals just fine.
One day, after a torrential storm, a townswoman happens across a terrified soaked toddler sitting alone in the woods. She brings the toddler into town, but no one recognizes the child. Suspecting the child's parents—rare tourists perhaps—must be lost or in trouble nearby, the locals organize a search party to find them. Their search leads instead to the discovery of a murder victim, another stranger, in one of the caves. As the investigation gets underway, the situation heats up. The residents of this once peaceful close-knit village find themselves terrorized by a possible serial killer. Facing their own mortality, they wonder whether the killer is an outsider, or one of their own? And who will be the next victim?
Captain Pascal Goddard of the local Gendarmerie has his hands full; he must solve the biggest murder case the region has ever seen. The residents will not let him rest until he uncovers the killer's identity, putting a stop to the killing so a frantic village can return to normal. But as the list of suspects grows, some begin to worry that past history will paint them as guilty even if they are not; at least not of murder.
---
Winter Tears (The Outsiders Book 3)
Gendarme captain Pascal Goddard looks forward to taking a break from work to focus his attention on his wife Chantal and the birth of their first child. Two weeks before their baby's due date, a couple who recently moved into a troglo in the nearby village of Reynier, France, report their baby missing. When Chantal finds out, worried for the safety of their unborn baby and for the missing baby, she begs her husband to find the child. Hours later, the unexpected happens to Chantal.
Torn between sitting at Chantal's bedside and praying for a miracle or doing his job and fulfilling what may be her last wish, Goddard must decide soon; the missing baby, if abandoned out on the snowy hillside or left in Reynier's labyrinthine cave system, won't survive for long.
He brings in the Gendarmerie's canine unit and personally interviews the short list of suspects, including the baby's parents and her five-year-old brother. With few leads, and severe weather threatening to impede the investigation, Goddard is anxious. And then, three more people—including the baby's brother whom Goddard has become fond of—disappear. Now Goddard puts his own life in danger to find them all.
---
The Forgotten Tomb (The Outsiders Book 4)
Seventy-nine-year-old Fabienne Laurent's biggest fear is that her family will notice her memory problems are getting worse. If they do, she's sure they'll send her to live in a nursing home, away from everyone and everything she loves. That's what she and her husband did when her own mother's dementia caused them too much grief. Not taking care of her mother the way a daughter should is one of her biggest regrets, but she can't undo the past. At best, she can keep her own family from making the same mistake, at least until they have no choice.
With that decision made, she'll have to cover up her illness as long as possible. Maybe that won't be a problem. They haven't noticed, so far . . . . But, she soon discovers it might not be as easy as she'd hoped. While helping her daughter and son-in-law renovate their new hotel in the small French village of Reynier, she finds mysterious journals that lead them to the unearthing of an old tomb deep inside the town's caves—and also to the remains of a woman who was murdered twenty years ago. That discovery turns her world upside down, because Fabienne not only knew the victim, but also had a motive to kill her. She must find a way to recover lost memories and convince herself and everyone else that she didn't do it.
---
The Outsiders series is also available as a four book box set
---
Liars' Games (Project Chameleon Book 1)
Juliet Powell, a former child-prodigy and math professor, wants her old life back—the life where she was in love and happy, the life where she was safe and sheltered, the life where she was well-respected and admired. What she has, instead, is a life in hiding and only partially protected under the witness protection program. She tells herself she will eventually adapt to her new life, but with each new identity comes more stories and more chances of getting them entangled. She's getting further and further away from who she really is.
When she blows her cover yet again, her handler warns her this is her last chance. She needs to blend in like a chameleon and play the game, but how can someone who has always believed in honesty suddenly become a convincing liar?
Compounding her problem with this new move, a political maneuver not of her choice and not within the usual rules of witness protection, ensconces her in the role of principal at a Denver high school full of gangs, drug dealers, and disgruntled employees. And then, when she discovers that a stranger is watching her and her young son, and her handler can't or won't move her, she must decide whether to run away and take her chances, or stay and fight to make the school safer.
Liars' Games is a witness protection romance suspense novel and the first in a series. The author is working on the next book in the series, tentatively titled 'The Secret Town'.
This book's unofficial sequel is Winter Tears, the third book in the Outsider's Mystery series. It's a cross-over book that briefly connects the two series.
---
The Handyman (Chambre Noir Book 1)
Joshua Clayton abandons his lavish vacation in Paris when a terrible betrayal forces him to take inventory of his life. Avoiding going home, he accepts a temporary job as handyman for an elderly woman, Paulette Lapierre, in a small French village, but ends up as her caregiver in the final days of her life.
When he stumbles across human remains on Paulette's property, the secrets she had hoped would die with her come to the surface. A decades old murder filled with lies, love, and twists draw Joshua into the investigation. But the deeper he goes, the more nothing is as it appears.
Joshua and Paulette must race to find the killer before the killer finds them.
The Handyman is the first book in a new women's fiction/mystery, thriller and suspense series.
---
Inherit the Past (The Bavarian Woods Book 1)
When laid-off California architect, Max Hollander, inherits his grandparents' house in Bavaria, it seems like the perfect opportunity to start over. If all goes well, he'll sell it and make enough money to tide him over. More importantly, he hopes taking his antagonistic son Ryan on the trip will help rebuild their trust in each other and maybe even give them a chance to investigate a longstanding mystery that has haunted their family.
Twenty years ago while Max's mother was staying at her parents' house in Riesen, Germany, she and her father disappeared, never to be heard from again. Now, as they search unsuccessfully for that same house, Max and Ryan become lost until they serendipitously meet three Germans who help them find it. But their luck is short-lived: before day's end they will get swept back in time . . . with no way to return to the present.
Realizing the same thing may have happened to his missing relatives, Max and companions set out to find them. Their quest soon embroils the hapless group in a murder investigation that widens the rift between father and son and places both lives in danger.
Inherit the Past is a story of family, love/relationships, guilt, and redemption. It's the first book in a time travel historical mystery series. The second book is already out, and it's 'Tanglewood Grotto'. The third book is in the works.
---
Tanglewood Grotto (The Bavarian Woods Book 2)
Buried lies and tangled secrets threaten the lives of two time traveling families in the sequel to Inherit the Past. Seventy-six-year-old Lotte Furst doesn't know who she can trust. Her time traveling brother (the only person who can operate time portals) was supposed to send her back home—to 2009—but he double-crossed her. She only got partially back. Within days, she was again in 1789 Bavaria, stuck and in grave danger.
And why? Before her failed attempt to get home, she had written a letter confessing to a murder she didn't commit. The letter was meant to help fellow time traveler, Karl Kimmel, and atone Lotte's past mistakes. It shouldn't have affected her future, since she was supposed to be out of harm's way. Now that her good deed has backfired, Lotte is on the run and hiding in a grotto like an animal because, if caught by the Bavarian Feldgendarms, she'll go to prison. Her only hope is to find her wily brother and persuade him to send her back where she belongs.
Karl knows where her brother is and Karl owes her. Trouble is, Karl lives in a big town where danger of capture looms. Plus, he has a granddaughter who wants to see Lotte caught and brought to justice. Lotte's visit with Karl sets off an explosive chain reaction affecting everyone she knows in the past—including estranged family members she originally time traveled with four months ago. People go missing. People die. And secrets get spilled.
Tanglewood Grotto is the second book in a time travel historical romance series. The first book is 'Inherit the Past'. The third book is in the works.