Meet the Author: Sue Moorhouse
20 Saturday Apr 2013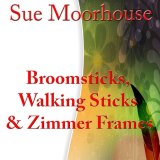 I'd like to introdue you to the twelfth interviewee in my 'Meet the Author' series. She is Sue Moorhouse.
QUESTION: Hi, Sue! Welcome to Susan Finlay Writes blog site. Can you tell us a bit about your background as a writer?
ANSWER: Hi Susan! And thank you so much for conducting this interview.
Well, I started writing as something to do when my children were small. The first thing I wrote was a very indigestible historical fantasy. So it is mainly fantasy that I like to write. The thing I am most proud of is a story called 'Rikasworld' which won a prize in the Sunday Times/Gollancz sci fi Competition and was published. After that I moved on to children's books, again fantasy. I have three published ones and three unpublished ones all for age 8 – 12.
QUESTION: Your book, Broomsticks, Walking Sticks, and Zimmer Frames, published by Ecanus Publishing, is described on Amazon.com as fairy tales for the mature. Sounds interesting. Please tell us more. What are the stories about, and where did you get your idea for the book?
ANSWER: The book takes familiar fairy tales and writes them from the view point of the older characters. These include a fairy godmother with a touch of dementia, a strong minded granny or three, a nasty old troll (in the modern sense, in a tower block) a harassed planning officer nearing retirement, the old school matron of Rapunzel's boarding school, a group of elderly animals setting out to become a 1960s pop group, and lots more. They are light hearted, but some of the humour is quite dark.
QUESTION: What prompted you to write your book?
ANSWER: I spent about eight years helping look after elderly relatives and friends as they became ill and, in two cases, suffered from dementia. I suppose most people will have gone through that very sad and depressing time! After that I wrote Broomsticks to take a more cheerful look at aging, to make myself laugh and try to amuse other people.
QUESTION: I read that you are donating the first year's royalties to 'Age UK'. What is that and why are you doing that?
ANSWER: Age UK is a charity that helps older people, with care or financially or in many ways. It seemed right to donate the royalties to them considering the subject matter!
I'll donate the next year's royalties to the Alzheimers Society.
QUESTION: Before I knew you as Sue Moorhouse, I met you as Rikasworld on Authonomy, an online writer's community run by HarperCollins. How did you come across the website? What was your experience like? How does it feel to have a number one ranked book on the site?
ANSWER: I'm not quite sure how I came across the Authonomy site, but I have really loved being a member of the community. The fact that people there liked Broomsticks gave me the confidence to work on the book and look for publishers. The criticisms people gave me helped to make the stories much better and the exchange of information about publishers was very helpful. I was also able to read professionally written books by other Authonomy writers, yours very much included.
Yes, Broomsticks has just made it to number one book on Authonomy. I'm not sure that it matters much, but I have loved the journey and it feels like winning a prize!
QUESTION: Where did you get your cover art?
The publisher, Ecanus, provided the cover art and everything else. I was not sure about the cover at first but –TODAY – the paperback arrived and I think it looks great, very eye-catching. The fact that it's slightly like an old lady's knickers really adds to the humour! Perfect.
QUESTION: You previously had three children's books published. Please tell us about those books and your publishing experience with Nelson Publishing. Are the books available online?
ANSWER: The three books I previously had published were sold in schools as part of a reading scheme. Nelson (Arnold Wheaton as they were before being taken over) were good to deal with. I did a few presentations in various local schools which was fun.
The books are still available second hand on Amazon but it was a long time ago. The Sunday Times/Gollancz sci-fi Competition Winners book is also on Amazon. It's amazing to see these pop up again after such a long time.
QUESTION: As a retired teacher of dyslexic students, do you miss working with children? Do you have plans to write any more children's stories?
ANSWER: I mainly taught teenagers and I do miss the fun! I volunteer once a week at the local Young Offender's Institute and that's very enjoyable. It's good to be around young people.
I would like to rework some of my unpublished children's and adult books. And put them up on Authonomy, of course.
QUESTION: What is your favorite or least favorite part of writing?
ANSWER: I love the times when you become immersed in the story and write and write and I enjoy the polishing up. I hate the times when I read through and think 'that's rubbish'. I'm a slow writer and it can be hard work.
QUESTION: Do you have a writing routine, a special place where you go to do your writing, or a certain time of day? Do you listen to music while you write, and if so, what kind of music?
ANSWER: I don't have a lap top so I sit at the computer desk to write. I never write long hand as I can't read my own writing! I think my brain works marginally better in the mornings so that's the best time to write. Definitely no music!
QUESTION: If you could meet any book character, who would it be, and what would you do with them?
ANSWER: I'm not sure which character but the world of Lord of the Rings has always been important to me. I'd be happy to knock around with most of the characters there, except the orcs!
QUESTION: Please list any websites or social media links for yourself or your book. Thanks!
ANSWER: I have a facebook page– http://www.facebook.com/sue.moorhouse1
Broomsticks can also be found on the Authonomy website and the website of the publisher Ecanus.
On Amazon: http://www.amazon.com/Broomsticks-Walking-Sticks-Zimmer-Frames/dp/0957412657/ref=sr_1_1?ie=UTF8&qid=1366482123&sr=8-1&keywords=sue+moorhouse
http://www.amazon.com/Broomsticks-Walking-Sticks-Zimmer-ebook/dp/B00A93ZK9E/ref=sr_1_1_bnp_1_kin?ie=UTF8&qid=1366482123&sr=8-1&keywords=sue+moorhouse