Meet the Author: Arline Chandler
11 Saturday May 2013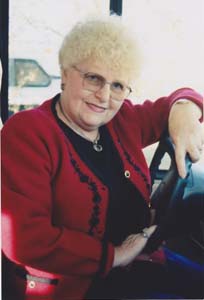 I'd like to introduce you to the thirty-third interviewee in my 'Meet the Author' series. She is travel writer Arline Chandler.
QUESTION: Hi, Arline! Welcome to Susan Finlay Writes blog site. Can you tell us a bit about your background as a writer?
ANSWER: Although I have always been interested in writing, I decided to pursue it as a career when I watched both my dad and my mother-in-law retire. Each one still wanted to work—to be productive. I determined that was not going to happen to me. I was going to train to do something I could continue for the rest of my life—tasks and assignments I could take with me wherever I decide to travel.
QUESTION: You write from your home in Heber Springs, Arkansas, or from your motorhome, about traveling and destinations. What inspired you to write this type of book and articles?
ANSWER: As a kindergarten teacher, I started out to write children's books. I studied with The Institute of Children's Literature. Although I wrote some curriculum for children in Sunday-school and I've won awards at conferences for some of my children's stories, I have not had any children's books published.
About the time I started writing, I started traveling in an RV. My daughter and her husband, Debbie and Greg Robus, started a magazine, Workamper News. They asked me to seek out RVers who were taking jobs or volunteer positions on the road, interview them, and then write their stories into a segment of the magazine, "Workamper Journal." Those journals led to a ten-year stint as an instructor at an annual RV conference, Life On Wheels, on the campus of the University of Idaho. During those years, I put my stories of Workampers (a registered name) into my first book: Road Work: The Ultimate Rving Adventure.
During that same decade of my life, I began visiting Branson, Missouri, and started interviewing performers in the entertainment city. My profiles were published in regional and national magazines. I also received invitations for numerous press trips around our country and began writing destination pieces.
Writing for a career education curriculum company broadened my interviews to people in all types of careers. I met individuals and went behind scenes in companies and public organizations that I would have had no other route to encounter.
QUESTION: How many books and magazine articles have you written? Which is your favorite and which is your most popular? Which is your newest? Can you tell us anything about your books?
ANSWER: I truly have no count of the articles I have written and had published. My first article about artist Glynda Turley was published by the Ozarks Mountaineer. I continued to write for that magazine until it ceased publication last year. I still write for Workamper News, although my daughter and son sold the business and I have a new editor and publisher. I've been with that publication for 26 years, and have written over 100 articles for them. I wrote dozens of profiles for Vocational Biographies. For several years, I wrote two to four articles monthly for Active Years, published in Little Rock, Arkansas.
I also wrote regularly for several years for Coast to Coast Magazine, resulting in at least nine profiles annually. I have written for other RVing publications, including Motorhome. I am currently working on an assignment for Motorhome. I contribute often to RV Life, and I write a weekly online blog post for that publication. Probably my favorite is the magazine that I receive on any given day and see how a graphic artist has integrated photos and artwork into my text. Last week, my article, "Solo Workamper Turns Lemons to Lemonade," came to my mailbox in the current issue of Workamper News.
Possibly my favorite article is one I wrote early on in my writing career, the story of a mother whose fifteen-year old son had an accident on an ATV and was brain dead. This mother prayed for an Easter miracle—for her son to wake from his coma. However, as days passed and he continued to have a flat line on a machine, she and her husband consented to donate their son's organs. Although she was not supposed to know the recipient of her son's heart, she did discover that a young man in Texas received the heart on Easter morning. Not exactly the miracle she had prayed for, but yet, an Easter miracle. That article was published in Home Life. Later, I rewrote it from the viewpoint of the young man who received the heart and it was published in the Arkansas Democrat Gazette. I will never forget that story, nor the interview with that mother when we both cried. It was a powerful experience.
My books. In addition to Road Work: 'The Ultimate RVing Adventure', which I revised once, I wrote a second book about Workamping:' Road Work II: The RVer's Ultimate Income Resource Guide'. When I left my public school classroom to pursue writing, my parents' health plummeted. I spent over ten years caring for them, seven of those years with my mother in a nursing home. I kept a journal and after my mother's death, I wrote 'When Heads & Hearts Collide: My Journey in Parenting My Parents'. The book is not a how-to manual, but rather the story of how I felt—including the terrible guilt that I could not "fix" my parents' lives and make them happy.
Next, I wrote 'Truly Zula: Daughter of the Ozarks', a memoir of my aunt, Zula Turney, who persevered through a childhood of hard work, going to college on a less than shoe-string budget, teaching in a one-room school, and then raising her four children. She returned to college, finished her degree, and began a lifelong career teaching fourth grade students in Quitman, Arkansas. Her teacher husband died, leaving her to continue raising her children alone. I incorporated family history into this book.
I also have contributed to anthologies, 'My Teacher Is My Hero', 'RV Traveling Tales: Women's Journeys on the Open Road', and 'Well-Versed: Literary Works 2011'. My newest book is 'The Heart of Branson: The Entertaining Families of America's Live Music Show Capital', published in late 2010 by History Press. Except for the anthologies, my books are available on my personal web site, on amazon.com, or Workamper Bookstore. 'The Heart of Branson' is also available for Kindle and Nook.
QUESTION: For ten summers, and a few autumns, you taught classes at Life On Wheels, a conference for RVers on the campus of the University of Idaho in Moscow, Idaho. Do you still teach? If so, where? Do you have any interesting stories to tell us about your teaching sessions?
ANSWER: Life On Wheels no longer exists after the death of its founder, Gaylord Maxwell. I stopped teaching at those conferences in 2006 because we spent that summer in Alaska. Although I loved traveling each summer to Idaho and thoroughly enjoyed my time teaching on the campus of the University of Idaho, I determined that ten years was enough time for that endeavor. We wanted to direct our energy and time to other projects for the summer months. Life On Wheels greatly impacted my life. I taught nine classes in five days, so it was a busy time. My classes included creative writing and writing family history. The feedback and support of my many attendees truly boosted my confidence. I was surprised that many men came to the classes.
I have taught my classes in other venues: The Rally, a nationwideRV Rally held in different locations across the United States, in classes at our local Art Center, and at The Folk Center State Park in Mountain View, Arkansas. I'm a born teacher; I love to teach. The interchange of ideas with those who want to be writers is very rewarding to me. For the past three years, my husband and I have presented "Faces and Places for Workampers" at the annual Workamper Rendezvous, hosted by Workamper News here in Heber Springs.
QUESTION: Your husband travels with you, and he is a photographer. Do you use his photographs in your books?
ANSWER: Yes, Lee's photography enhances both my books and magazine articles. He has several cover shots for Workamper News to his credit. His work appears almost every week in my blog post for www.rvlife.com, and also in the print magazine, RV Life. I recently completed an article for Motorhome and Lee's photography will be in that feature. For The Heart of Branson and Truly Zula, I had many historic photos and Lee worked for hours on making them adaptable to print media.
QUESTION: What is your favorite or least favorite part of writing?
ANSWER: My favorite part of writing is editing. After I have all the words in, I enjoy going back and rearranging text; perhaps, adding or reworking sentences to paint the picture with words that I want. Lee is my proof reader. He catches numerous things that I overlook because I am too close to my writing.
QUESTION: How does your writing routine in your motorhome differ from your routine at home? Which do you prefer?
ANSWER: My routine does not vary, except in my motorhome, I work at our dining table. At home, I have my own office. But the hours are the same, writing whenever I can. I do not really prefer one over the other.
QUESTION: How do you get past writers' block or distractions like the internet?
ANSWER: I get past writers' block by starting to write. Getting those first few words or sentences on my computer screen. I'm not very good at getting past the distractions of the Internet and social media. However, the Internet aides me in whatever I'm writing. Sometimes, I look up something simply to check the spelling. In finishing a blog post recently, I probably used the Internet six times to research and reference a particular place, style of clothing, or a historical fact.
QUESTION: Please list any websites or social media links for yourself or your book. Thanks!
ANSWER:
www.arlinechandler.blogspot.com
http://allthingsbranson.blogspot.com/
www.rvlife.com/1256-arline
[email protected]
www.workamper.com/bookstore
www.amazon.com
If you liked this article, please subscribe to (follow) my blog. Thanks!