Announcing the New Book, Revolting Tales, by Christopher D. Abbott & Todd Curry
04 Monday Nov 2013
Revolting Tales – Out now!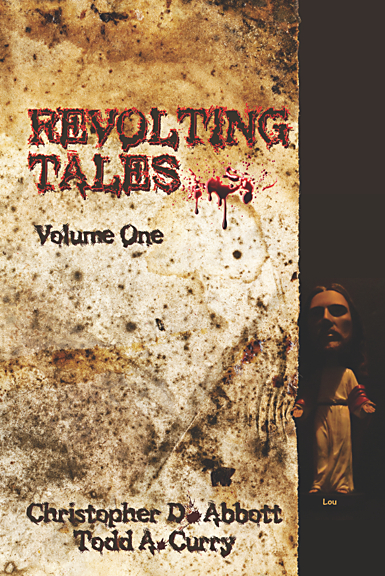 Deep in the very depths of Hell, where billions of souls are eternally enslaved in perpetual torment, you'll find Lou, the master of the underworld. Meeting him for the first time, in an endless assortment of hideous and ridiculous clothing, you'd be forgiven for thinking he was almost benign. Don't be fooled though, he takes his job very seriously. There is also Sandra, his personal enigma.
Sandra assists him in devising revolting and terrifying punishments for the most heinous of offenders. So when Sandra hands Lou the daily list of specials, Lou can't help but get excited. On the list are some very naughty people that require his personal attention.
Lou believes, quite rightly too, his attention should be considered an honour…
Warning: This book is NOT for children. It contains graphic and descriptive scenes of blood and gore alone with sexual content – it's called Revolting Tales for a good reason…
You can buy it in both eBook and paperback formats, below you'll find links to them for the USA and the UK. You can also buy it direct from the printer (Createspace), the link is below.
 
Kindle:
Amazon US : http://www.amazon.com/Revolting-Tales-ebook/dp/B00GD2F4IC/ref=sr_1_2?s=books&ie=UTF8&qid=1383407014&sr=1-2&keywords=revolting+tales
Amazon UK: http://www.amazon.co.uk/Revolting-Tales-Christopher-D-Abbott-ebook/dp/B00GD2F4IC/ref=sr_1_1?s=digital-text&ie=UTF8&qid=1383407063&sr=1-1&keywords=revolting+tales
Paperback:
Amazon US: http://www.amazon.com/Revolting-Tales-Christopher-D-Abbott/dp/149288474X/ref=sr_1_2?s=books&ie=UTF8&qid=1383407388&sr=1-2&keywords=revolting+tales
Amazon UK: http://www.amazon.co.uk/Revolting-Tales-Christopher-D-Abbott/dp/149288474X/ref=sr_1_2?s=books&ie=UTF8&qid=1383407310&sr=1-2&keywords=revolting+tales
Createspace: https://www.createspace.com/4467469
We hope you enjoy these stories, you can look us both up on our Facebook pages:
Christopher D. Abbott: www.facebook.com/cdanabbott
Todd A. Curry: www.facebook.com/AuthorToddACurry
Or visit the website: www.cdanabbott.com