What is a Troglodyte and Why Should You Care?
06 Friday Dec 2013
My new mystery novel, In the Shadows: An Outsiders Mystery, is unusual, partially because it doesn't begin with a murder or a kidnapping, but rather with a mysterious outsider, Maura Barrington, who is desperately trying to blend in with Parisiens in Paris and hide her identity. But the other unusual aspect is the setting. Maura makes her way south to a quiet hillside village, where she hopes no one will recognize her. That village is dotted with caves and troglodyte cave dwellings, known locally as troglos. Some of these troglos have facades on them that make them look similar to regular houses, though the insides are quite different. Cave homes in France today are quite comfortable, and in some cases even luxurious. That wasn't the case back in the 1800's and early 1900's.
As I researched France and various troglodyte villages, I found that in the 1800's many people lived in rough caves in some areas of France and other European countries. In France, the city-dwellers saw them as savages and gave them the nickname of 'troglodytes'. In some regions of France, whole hillsides were dug out, creating subterranean apartment blocks that were home to hundreds of people. They mined the rock and slept inside the caves with their families, sometimes in total darkness. Here is a photo of the troglodyte village of La Rocque Gageac in the Dordogne region of France.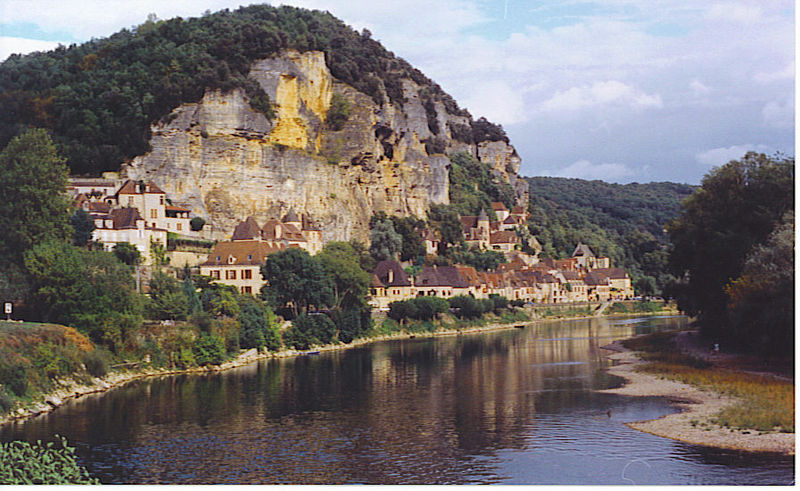 At the turn of the century (late 1800's, early 1900's), an Englishman named S. Baring-Gould traveled around Europe and visited many of these villages. He wrote a book, Cliff Castles and Cave Dwellings of Europe, and describes the appalling conditions of these cave-dwellings. In one chapter, he say, 'In one that I entered was an oven, with a well at its side. A little further, in a large hall, a circular hole in the floor unfenced gave access by rope or ladder to a lower range of galleries. Any one exploring by the feeble light of a candle, without a guide, might be precipitated down the abyss without knowing that there was a gaping opening before him.'
These modern cave-dwellings and their history fascinated me and made me want to use them as the setting for my mysteries. To give you an idea of what a modern troglo is like, I'm including a link to a video. http://youtu.be/DSbQ3t-j41Y
Getting back to my book: When the mysterious stranger, Maura, reaches the troglodyte village of Reynier, France, she meets a man, Dave Martin, who is visiting his ill grandmother. Dave is already suspicious by nature because of his previous occupation–a Chicago police detective–so he is immediately curious and suspicious of her. But neither Maura nor Dave know what their meeting will do to their lives.
I hope you'll check out the book. The second book in the series is almost ready for release. That one should be out in April, 2014.