John Holt's "Kendall Box Set" (3 Detective Novels) is On Sale for 99 Cents
01 Saturday Mar 2014
My friend, John Holt, has put his wonderful three novel boxed set on countdown special for only 99 cents until March 5th. This is a fantastic deal that you won't want to miss!
About the Books:
The Mackenzie Dossier – Kendall could just see the television screen. There was a photograph of Governor Frank Reynolds. Across the bottom of the screen the ticker tape announced in large black letters 'Governor Reynolds Murdered'. The voice over was filling in whatever detail was available. Apparently his body had been discovered earlier that morning. He had been found lying in his garage. He had been shot twice. One shot to the upper chest, the other hitting his shoulder. 'Police believe that the weapon used was a 9 mm pistol,' the reporter said. Kendall froze. Anthony Shaw had also been killed by a 9 mm bullet. Kendall was not quite sure of what it all meant. What connection was there between Anthony Shaw, and the State Governor, and the business mogul, Ian Duncan. And what about Senator Mackenzie? Where did he fit in? And who or what was Latimer? Only a short while ago Kendall was a small time private detective , a Private Eye, investigating an insignificant little murder with no clues, no witnesses, and no motive. In fact, no nothing. Now he had so many pieces of a puzzle he didn't know how they fitted together. He didn't even know if they all came from the same puzzle.
The Marinski Affair – The Marinski Affair began as a dull mundane case involving a missing husband. Okay, so he was a rich missing husband, but he was nonetheless, still only a missing husband. The case soon developed into one involving robbery, kidnapping, blackmail and murder. But was there really a kidnapping? And exactly who is blackmailing who? Who actually carried out the robbery? Who committed the murders? Who can you trust? Who can you believe? Is anyone actually telling the truth? What have they got to hide? And what connection was there with a jewel theft that occurred four years previously? All is not as it seems. Tom Kendall, private detective, had the task of solving the mystery. He was usually pretty good at solving puzzles, but this one was different, somehow. It wasn't that he didn't have any of the pieces. Oh no, he wasn't short of clues. It was just that none of the pieces seemed to fit together.
Epidemic – Tom Kendall, a down to earth private detective, is asked to investigate the death of a young newspaper reporter. The evidence shows quite clearly that it was an accident: a simple, dreadful accident. That is the finding of the coroner and the local police. Furthermore, there were two witnesses. They saw the whole thing. But was it an accident, or was it something more sinister? Against a backdrop of a viral epidemic slowly spreading from Central America, a simple case soon places Kendall up against one of the largest drug companies in the country.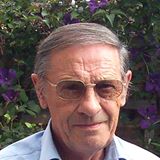 Author Bio:
Born in 1943 in Bishops Stortford, Hertfordshire. I currently live in Essex with my wife, Margaret, and my daughter Elizabeth. For many years I was a Chartered Surveyor, until I retired in 2008. I had always wanted to write a novel but could never think of a good enough plot. My first novel, The Kammersee Affair, written in 2008. was inspired by a holiday in Austria. We were staying in Grundlsee. The next lake, Toplitzsee, was used by the Germans during the war to test rockets, and torpedoes. There were rumours of gold hidden in that lake. Despite extensive searches the gold was never found. In my book, however, it is found, only in the next lake, Kammersee.
The books that followed, The Mackenzie File, The Marinski Affair, Epidemic,and A Killing In The City all feature Tom Kendall, a down to earth private detective. In August 2012 I decided to go down the self published route, and formed by own publishing brand PHOENIX. My latest novel "The Thackery Journal" is a "What If" novel regarding the assassination of Lincoln. I am currently working on two other novels featuring Tom Kendall, and another novel set during the American civil War, and I have made a tentative start on an Adventure novel.
Amazon: http://www.amazon.com/dp/B00GRWTXHG/ref=cm_sw_r_fa_dp_RVCetb1B8DQPG