Meet the Author: Susan Finlay in Person at the Boone County Historical Society
08 Monday Dec 2014
I will be giving a book talk at the Boone County Historical Society on Saturday, December 20th as the fifth speaker in the 'Meet the Author' book talk series. The Boone County Historical Society and Museum is located at 3801 Ponderosa Street, in historic Nifong Park (Columbia, MO).
I will speak inside the Montminy Art Gallery (Currently featuring the artwork of Bryan Haynes) from 10:30 to 11:30. Doors will open at 10 am for free coffee. At this time Harold's Doughnuts will also be selling their amazing pastries. I will sell and sign books following my talk. In addition, The museum will then be open for guests to enjoy the current exhibit "A Bell Rings Out: 150 Years of Boone County Education" (at no additional charge).
I currently have four titles available. Outsider Mysteries – "In the Shadows" and "Where Secrets Reside," suspense/thriller novel "Liars' Games" and my most recent release, a time travel mystery, "Inherit the Past: A Bavarian Woods Mystery." I plan to share how travel and interest in other countries influence my settings. I will also discuss my blog.
Admission to the book talk is $3; children 12 and under get in free. If you came to a previous book talk and received a punch card, bring it with you. Every sixth punch on your card gets you a free admission. Punch cards will be available at each event.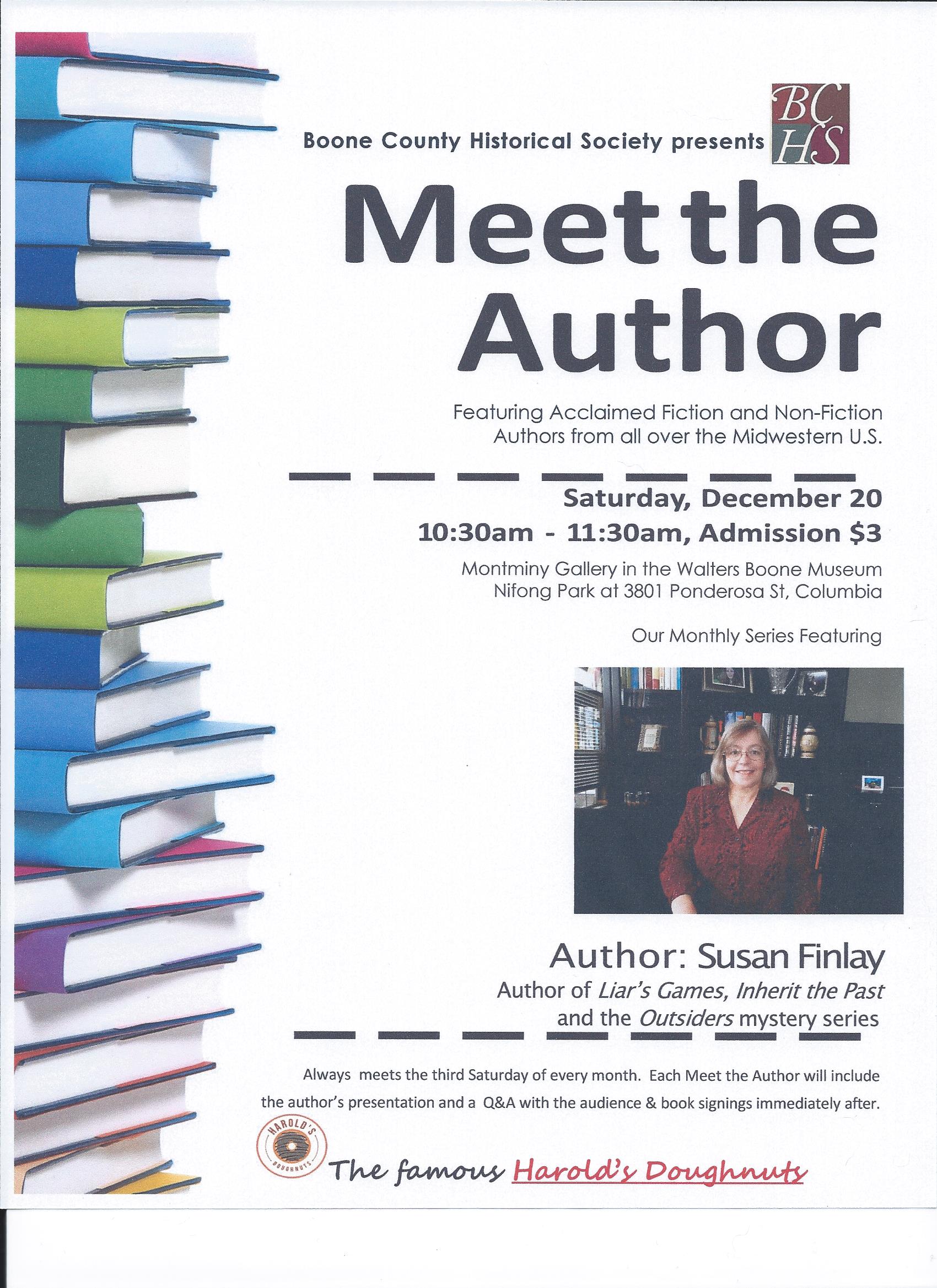 Please feel free to share this event!
http://www.amazon.com/Susan-Finlay/e/B00H1BX1RA/ref=sr_tc_2_0?qid=1418045666&sr=8-2-ent