Alternate Voices, An Anthology For A Good Cause
06 Tuesday Oct 2015
Today, I have a guest author, Juliet B. Madison, who is posting about a new book, Alternate Voices, an anthology. Proceeds from the sale of this anthology will be donated to Macmillan Cancer Support to help people living with cancer in the UK.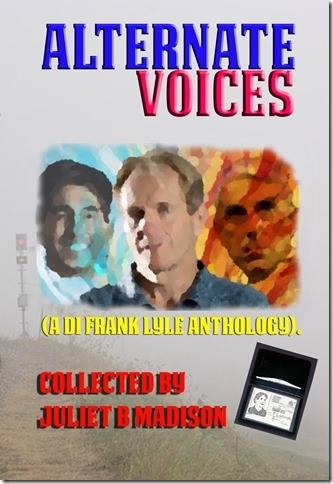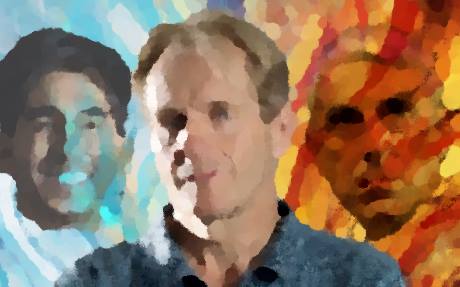 The book has seven very different DI Lyle fan fiction stories by seven different authors.
Alternate Voices, An Anthology For A Good Cause by Juliet B. Madison
It's difficult to say anything about the Alternate Voices charity DI Lyle anthology that hasn't already been said. However I am facing up to that challenge.
During release week each contributor, myself included, gave short interviews on Tricia Drammeh's Authors to Watch site. As she was unable to interview herself Tricia wrote a feature on her own story A Change of Heart. The anthology was highlighted on the DI Frank Lyle Efanzine and my own crime author site as well as being featured by Rukia Publishing.
The Facebook launch event has now ended but any interested parties are more than welcome to join the Alternate Voices Supporters group on Facebook and like the Official Alternate Voices Facebook page Links to the web features, contributor interviews and where to buy your own copy are at the bottom of this post.
Now the official preamble is dealt with I'd like to talk about the subject of characterisation.
Writing about other people's characters isn't easy but there are many who do write fiction about TV and movie characters, turning things the way they wanted them to go rather than the canon official versions. I myself have written several pieces of fan fiction, mainly about Downton Abbey, Wild at Heart & Law & Order UK. One of these days I will get around to doing fiction about Twin Peaks and NCIS.
However my six contributors have done a marvellous job of making the DI Frank Lyle Mystery Series characters their own for a brief time. Incidentally here I feel I should reiterate the point that, since the DI Lyle series is my copyright, the authors whose stories are featured will need my authorisation if they wish to use their stories elsewhere.
Every contributor made excellent use of my characters. Two authors incorporated characters of their own. Joel Mark Harris used his journalist character John Webster and Paul Trembling brought in his obnoxious CSI Ben Drummond. I'll leave readers to judge whether these characters help or hinder the Ashbeck CID investigations in which they become involved.
In addition several colourful new characters of the authors' own invention came into their stories which I think enhanced their understanding of how the DI Lyle series works in the way they blended in and made their mark on the hearts and minds of the regular characters and hopefully the readers too. I have to mention a few here. Tricia's homeless boy, Brian, Katrina's Rowan Stewart, Gerry's DC Fiona Erskine and Caroline's Madam Ezra. As a spiritualist I'm pleased to see a psychic so well portrayed. Whether Madam Ezra is the real deal or not Caroline and I leave to the reader to judge.
The anthology also uses characters that have had a fringe role in the series. Canon Thomas Rice pops up, as well as Superintendent Martha Kingsley, the late DS Sunil Desai, Sarah Lyle, Dr Robert Bradley, the forensic pathologist, and DC (now DS) Mark Slade. Dr Barry Fox, the Ashbeck District Coroner, and his wife, Sylvia, feature in two stories and Barry is especially important to the discoveries in Angels & Demons. Frank and Jayseera Lyle's daughter, Jasmine, also makes a couple of appearances. Even the late unlamented Bob Kenyon pops up and disgraced DI Simon Ward also gets a mention although he doesn't actually appear in any of the stories.
You'll notice that I refer to characters obliquely, but those who have already read Alternate Voices will pick up on the inferences and know where the characters belong.
Strangely only one author, Gerry McCullough, made use of DI Lyle's admiration for folk singer, Joan Baez and Paul's story was the only one to feature DI Andrew Redfern. I don't think I am giving anything away here.
Whether you are writing about your own characters or someone else's it is important to catch the important facets of their character and, if possible, teach the reader something new about them too. All the authors have done this well.
I am really hoping that people will read, enjoy and review Alternate Voices. Even trolls should be able to follow the book since there are illustrations in this one. The more copies we sell will enable Macmillan to help more people living with cancer and their loved ones. Cancer is a plague on humanity that should have been wiped out years ago. Most people reading this will know someone who has either survived or died of cancer or have even been through the cancer mill themselves.
I want to make one final and important point before I close. While all the stories refer to events in the DI Lyle canon, they are separate and will not be incorporated into the main story arc because they are not my creation.
AUTHORS TO WATCH CONTRIBUTOR INTERVIEWS
Juliet B Madison
Tricia Drammeh
Joel Mark Harris
Gerry McCullough
Katrina Bowlin-MacKenzie
Paul Trembling
Caroline Lee
LAUNCH WEEK PROMO REVISITED
Advance release statement – DI Frank Lyle Efanzine
Rukia Publishing Launch day promo
Official Launch statement – Juliet's Crime author site
Rukia Publishing Book Promotion news
WHERE TO GET YOUR COPY
Alternate Voices – Amazon
Alternate Voices – Kobo
Alternate Voices – Nook
Alternate Voices – Apple
You can also visit Macmillan Cancer Support's website here
There is also information about the work Macmillan do in the anthology itself.