The Handyman Can Come to You Now–It's Published!!!
28 Saturday Nov 2015
Today I have huge news! My sixth novel, The Handyman: A Chambre Noir Mystery, is now available on Amazon.com in Kindle format or paperback. You can also go into a book store, such as Barnes & Noble, and order a paperback copy. Since it's still so new, the Amazon search engines don't always find all versions of it right away, so I'm posting links.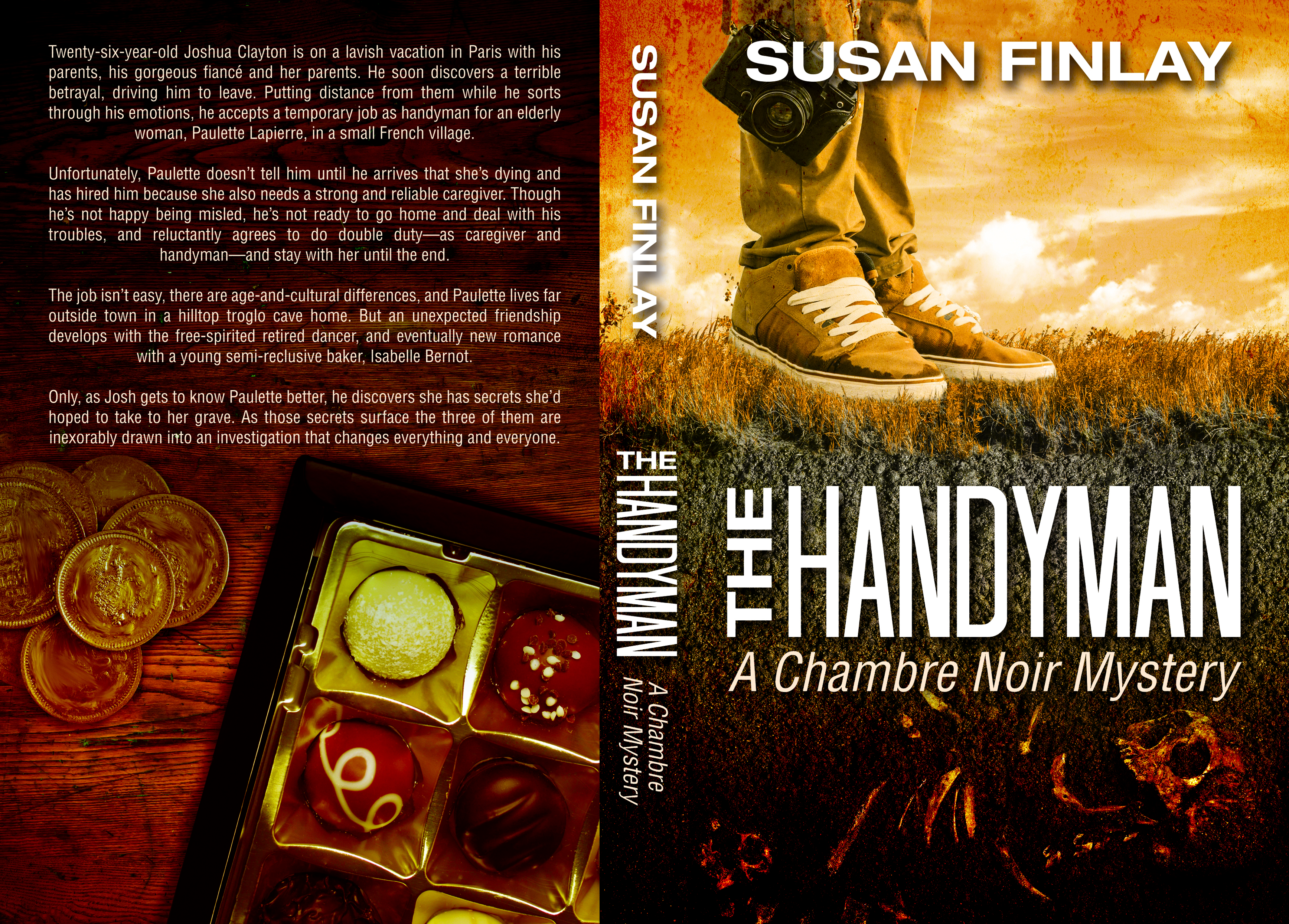 Here's what the book is about:
Twenty-six-year-old Joshua Clayton is on a lavish vacation in Paris with his parents, his gorgeous fiancé and her parents. He soon discovers a terrible betrayal, driving him to leave. Putting distance from them while he sorts through his emotions, he accepts a temporary job as handyman for an elderly woman, Paulette Lapierre, in a small French village.
Unfortunately, Paulette doesn't tell him until he arrives that she's dying and has hired him because she also needs a strong and reliable caregiver. Though he's not happy being misled, he's not ready to go home and deal with his troubles, and reluctantly agrees to do double duty—as caregiver and handyman—and stay with her until the end.
The job isn't easy, there are age-and-cultural differences, and Paulette lives far outside town in a hilltop troglo cave home. But an unexpected friendship develops with the free-spirited retired dancer, and eventually new romance with a young semi-reclusive baker, Isabelle Bernot.
Only, as Josh gets to know Paulette better, he discovers she has secrets she'd hoped to take to her grave. As those secrets surface the three of them are inexorably drawn into an investigation that changes everything and everyone.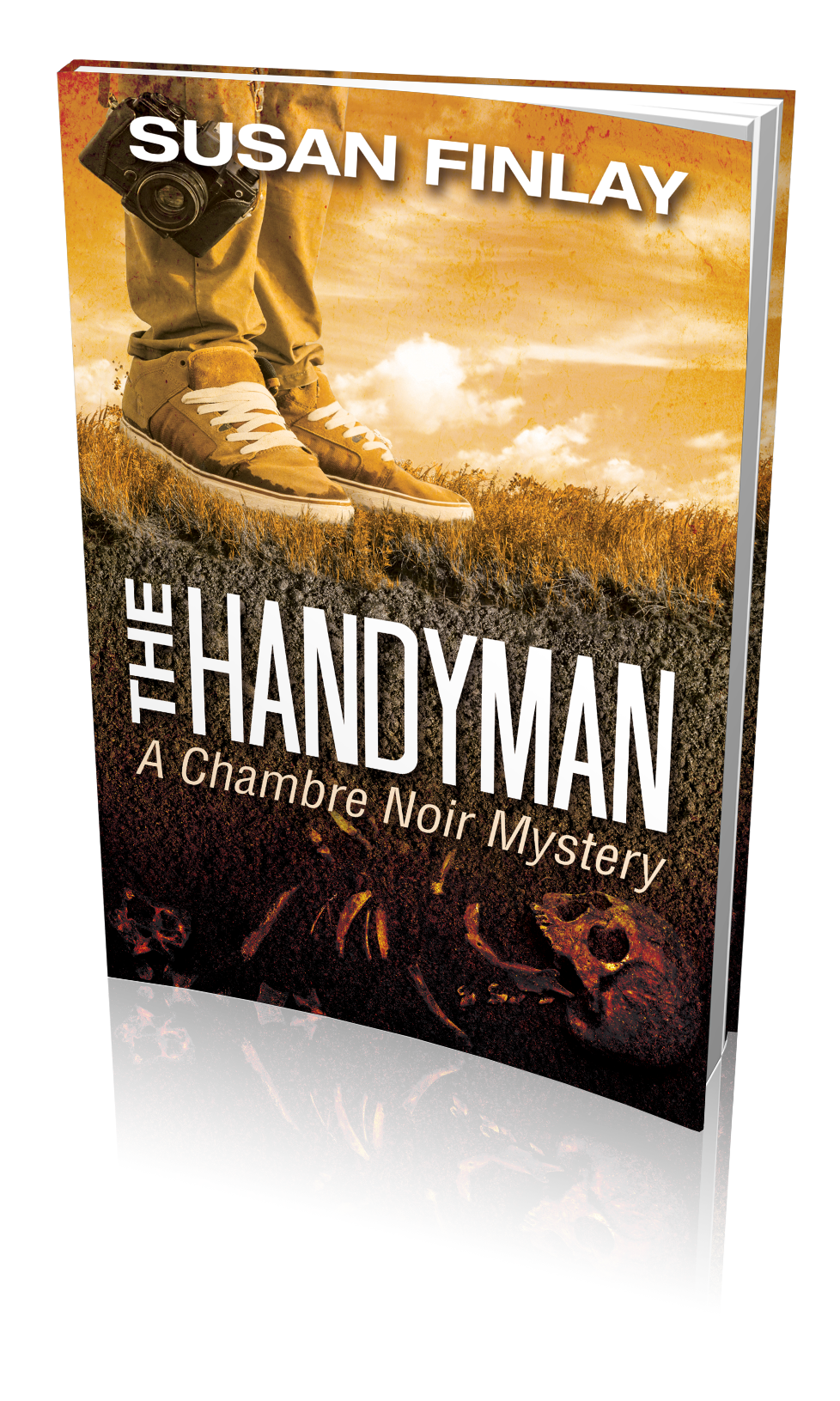 This is one of my favorite books of mine for many reasons. It has a lot more about French troglos than my Outsiders series does and much of the story takes place inside a troglo, the main character is a young American banker, Josh, (so I got to use some of my banking experience), it has dogs and cats and chocolates, and it's packed with emotion. It also has a lot about Josh's love of photography (so I got to use some of my photography experience, too). And, like so many of us, Josh learned what it's like to care for someone who is dying of cancer, and he got to make a difference in her life. I dedicated the book to my mother-in-law, Patricia Finlay, who passed away at the beginning of this year. The book isn't about her, but there might be a few traces of her in the story.
I hope you'll like The Handyman. Please tell your friends.
U.S. Amazon, Kindle version: http://www.amazon.com/Handyman-Chambre-Noir-Book-ebook/dp/B018LHF0BW/ref=sr_1_1_twi_kin_1?ie=UTF8&qid=1448715292&sr=8-1&keywords=susan+finlay+the+handyman
U.S. Amazon, Paperback version: http://www.amazon.com/Handyman-Chambre-Noir-Mystery/dp/151935231X/ref=asap_bc?ie=UTF8
U.K. Amazon, Kindle version: http://www.amazon.co.uk/Handyman-Chambre-Noir-Book-ebook/dp/B018LHF0BW/ref=sr_1_3_twi_kin_1?ie=UTF8&qid=1448716161&sr=8-3&keywords=susan+finlay
Germany Amazon, Kindle version: http://www.amazon.de/Handyman-Chambre-Noir-Book-English-ebook/dp/B018LHF0BW/ref=sr_1_2_twi_kin_1?ie=UTF8&qid=1448716306&sr=8-2&keywords=susan+finlay
Canada Amazon, Kindle version: http://www.amazon.ca/Handyman-Chambre-Noir-Book-ebook/dp/B018LHF0BW/ref=sr_1_1_twi_kin_1?ie=UTF8&qid=1448716365&sr=8-1&keywords=susan+finlay
France Amazon, Kindle version: http://www.amazon.fr/Handyman-Chambre-Noir-Book-English-ebook/dp/B018LHF0BW/ref=sr_1_1_twi_kin_2?ie=UTF8&qid=1448716408&sr=8-1&keywords=susan+finlay
Australia Amazon, Kindle version: http://www.amazon.com.au/Handyman-Chambre-Noir-Book-ebook/dp/B018LHF0BW/ref=sr_1_6_twi_kin_1?ie=UTF8&qid=1448716452&sr=8-6&keywords=susan+finlay