Meet the Author: Teresa Geering
02 Saturday Jan 2016
It's been a long time since I posted an author interview. I've lost count of how many I posted in my Meet the Author series. I could look back and figure it out, but it's not really that important. Today, I'm happy to introduce you to U.K. author, Teresa (T. K.) Geering.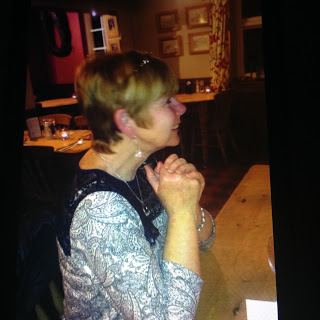 Hi, T. K.! Welcome to Susan Finlay Writes blog site. Can you tell us a bit about your background as a writer?

Hi Susan and thank you for inviting me to your blog site. In answer to your question I began to write seriously about five years ago. Paranormal fantasy wasn't a natural choice, I guess it was more of an unexpected curve ball, but I relented and accepted that fantasy had chosen me. From there I moved on to crime with a sprinkling of romance. In my opinion, every good story has to have a romantic interest somewhere.
In the past I have lectured to 'A' level and Performing Arts students on creative writing. It became an extremely interesting sideline and gave a natural break from editing, reviewing and writing.
Whilst interviewing a publisher for the writing group I belonged to, I was delighted to hear that they were head hunting me for publication of my books.
The rest as they say …… is history.
My writing style has been compared to J.K. Rowling and Jean M. Auel, and my books are now sold worldwide.
Your novel, Soulfate, published in March, 2015, by Wild Wolf Publishing, is a supernatural story in which 'time plays foul with every expectation and all is not as it seems'. Sounds intriguing. Will you tell us about it? What inspired you to write it?
Susan probably the easiest way to answer the first part of your question is to include this 'synopsis' of it.
"Shasta's life takes a supernatural turn when she meets a stranger in her tiny village. Her newly adopted stray cat is hostile toward the enigmatic Erasmus, betraying the paranormal essence of her feline companion. Naive, unprepared for love or a soul-mate from the past and future, Shasta is plunged into a reality where realms warp and meld, and where she is their conquest. Time is not linear and love is never simple. Time plays foul with every expectation and all is not as it seems.
A wise woman may have the answers in each life the lovers walk through. She knows Shasta in every era and meets Erasmus in different guises. When Erasmus is put under a spell to become a book, she is his keeper. And May, in every life, takes care of a little black cat called Merlin. Queen Amelia is aware of the complications time creates. She is powerful in magic and seeks to aid eternal love to a happy ending, but it is a truth that all crossing time must always expect the unexpected.
True love can cross oceans, can make the fixed malleable, and can warp boundaries. When the soul and fate collide, Shasta falls in love with her Soulfate…."
My inspiration came from my garden which has been described as a cottage garden many times. One hot summer evening I was cooling off outside with a glass of wine and suddenly I had many words buzzing about in my head. Ideas for a storyline came to me and I had to go inside to get a notebook. I couldn't write quick enough and finally ended up with my tape recorder. I wrote Shasta in 6 weeks followed by the Village.
Your short story, A Russian Gift of Love, published in June, 2015, by Tirgearr Publishing, sounds like a romantic suspense. Will you tell us about it? What inspired you to write it?
Ah my romantic Russian – or is he? Well appearances can be deceptive.
Vicky is a successful published author, but this is just a cover for her real job. She's a Detective Chief Inspector dealing with espionage and anti terrorism.
The handsome firefighter Nick moves into the cottage next door and they become friends. Due to an ankle injury he ends up spending Christmas with Vicky who is nursing him back to health.
As the snow falls heavily, they find themselves snowed in and their friendship turns to intense love. Nick, a secret Russian sleeper, has a contract to fulfill and the hit is Vicky.
My inspiration came from the lads and lassies that I do voluntary work with. The world of crime and espionage intrigues me tremendously.
Are you working on a new book or short story? Have you thought of writing a full novel based on your short story?
Hm! Working on a new book? well I have two novels I've been writing back to back. One is another crime novel and the other is a fantasy with a twist. In answer to your second question Susan I was asked that question recently when I was interviewed by Highlight Hollywood. The answer is, there is certainly scope to turn it into a full length but finding the time is the problem. I'm always keen to tackle new storylines!
I saw on Amazon that you have a couple of earlier novels written under the name Teresa Geering. Will you tell us about those?
Ah yes. The Eye of Erasmus and Shasta Summer. Ok I've been plagued with publishing houses closing their doors and I'm now on my third/fourth. These two books were originally published by Taylor Street of San Francisco. Shasta Summer was two books in one covering the past and the present. When they closed and I was picked up by Thorstruck Publishing (now closed also) they decided to put all three books into one and called it SOULFATE. Three books for the price of one! Thorstruck closed and Wild Wolf picked me up and took on SOULFATE. Then I had an opportunity to have Tirgearr publish the Russian Gift of Love. So four publishers in total with two closing.
I love your book covers. Tell us about your book covers. Do you have much input in design of your book covers?
Oh thank you. Soulfate was designed by the editor at Thorstruck who writes under the name Poppet. She is a magnificent graphic artist. The Russian was done by the graphic artist at Tirgearr. I had excellent input on both of them. I love them both.
Do you have a favorite review of any of your books?
Oh that's a difficult one to answer Susan. Actually I have two and they are both for Soulfate. So I hope you won't mind if I share both with you…?
Amazon 5 star Beautiful, mythological, left me wanting more
Erasmus is a powerful man. Born during a storm, as he grows up he realizes he has extraordinary powers. He determines he can travel through time, and goes into the future to meet the love of his life, Shasta. Erasmus and Shasta were born on the same date, at the same time, many years apart. They fall deeply in love, and marry. But all the while, Hesper, the beggar boy Shasta takes into her home, shows disdain for Erasmus. Who is Hesper, really, and who is he to challenge Erasmus the Omnipotent?
Reading this book was an unusual experience for me. The book is written unlike most modern fiction, where the goal is to create a personal bond between reader and character. Instead, The Eye of Erasmus reads like an ancient myth, slightly removed from the reader because it is sacred, scriptural almost. I loved that aspect of the book, it gave me a feeling of enlightenment and awe.
The book uses language that allows the reader to determine the place and time setting, which I think is fantastic. This allows every reader to paint their own version of Erasmus and Shasta, which in turn does allow the reader to have a personal investment in the story. This story has a quiet, solemn power about it, and I felt myself pushing through drowsiness to read on late into the evening. There was no way I was going to sleep without knowing what was to happen.
The book is written in such a way that I think it will appeal to a large variety of readers. There are some fantasy and supernatural elements to the story, so those fans will enjoy. There is romance, so those readers will love it as well. As because of the mythos involved in the story, I believe it will greatly appeal to classical literature fans, historical fans, mythology fans, and readers who enjoy classic storytelling elements in writing.
To me, this feels like the kind of story that can be passed on for many generations. The fact that there are 2 future installments planned for Erasmus' story leaves me breathless with anticipation.
~o0o~
Amazon 5 star Take a journey into enchantment!
Are you ready for an enchanted adventure back through time? I was anticipating this wonderful book months before its release, because I knew in advance just how wonderfully well Author Teresa Geering writes, having had the delight of reading her debut novel "Shasta and Erasmus'
This novel is part of a trilogy…and actually is a prequel to "Shasta and Erasmus". However you read them each story will transport you to a land of strangeness and magic, the characterizations so beautifully crafted by this author that you can see them dancing in your mind…You can hear the cat speak…You are laughter bound on meeting the darling Aunt May.
Erasmus and Shasta are bound through time. This is a love story that has no boundaries of centuries past or future. As adults we may need to learn to relax and accept all we read, before we can totally absorb all the book has to offer.
However if you bring to the book the willingness to suspend disbelief, you will be transported by the Author…it will perhaps remind you of the magic of childhood as you find yourself hearing the laughter within its pages.
This book has no age barrier; it is as pleasurable for the reader regardless of being fifteen or fifty.
The final part of this trilogy is still to come, and this reader is impatient.
If you want a joyous exploration, a journey through a world less harsh and cynical, then you can do no better.
Author Teresa Geering's works shall remain high on my list of must haves.
~o0o~
What books or authors have most influenced you in your own writing? Do you have a mentor?
I can't honestly say I've been influenced by another writer. My style is my own from deep within I guess. My mentor has always been Richard Grayling who in the early days gave up his own writing to help me get established. I am totally indebted to him.
Do you have a writing routine?

Ha ha I'd like to say I was disciplined but I'm not. I write when the muse takes me but once I start I will keep going regardless of time.
What is your favorite or least favorite part of writing?
Aha! Easy one. Favourite part is when the words just flow like a stream. Least favourite is when the main character hijacks the storyline and I have trouble calming them down. Sometimes it's just as easy to give them their head and see where they take me.
Please list any websites or social media links for yourself or your book. Thanks!
Links:
https://www.facebook.com/tee.gee.54390
https://twitter.com/wiccatee
https://tgeering.blogspot.com
http://www.tirgearrpublishing.com/authors/Geering_TK/index.htm