I've often talked about my newest books, but one of my older books, Liars' Games, is a suspense novel that might be getting a sequel. Liars' Games is about a genius professor, Juliet Powell, from England who is stuck in the U.S. in the Federal witness protection program as a witness to a crime committed by a crime syndicate. She's supposed to keep a low profile so that the people she's supposed to testify against don't find her and kill her.
As the book begins, Juliet mistakenly accepts a job as principal of a dangerous Colorado high school, putting herself in greater danger than she was already in. She quickly realizes she's in over her head, when her faculty treats her with disdain and the students are out of control. Her handler in witness protection refuses to move her, because she's already failed at her previous identities. Seeing no choice, she tries to learn her new job and make a difference.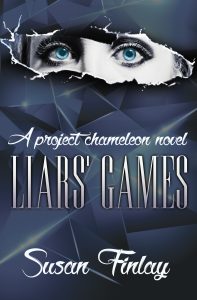 Here's the book's description on Amazon:
Juliet Powell, a former child-prodigy and math professor, wants her old life back—the life where she was in love and happy, the life where she was safe and sheltered, the life where she was well-respected and admired. What she has, instead, is a life in hiding and only partially protected under the witness protection program. She tells herself she will eventually adapt to her new life, but with each new identity comes more stories and more chances of getting them entangled. She's getting further and further away from who she really is.
When she blows her cover yet again, her handler warns her this is her last chance. She needs to blend in like a chameleon and play the game, but how can someone who has always believed in honesty suddenly become a convincing liar?
Compounding her problem with this new move, a political maneuver not of her choice and not within the usual rules of witness protection, ensconces her in the role of principal at a Denver high school full of gangs, drug dealers, and disgruntled employees. And then, when she discovers that a stranger is watching her and her young son, and her handler can't or won't move her, she must decide whether to run away and take her chances, or stay and fight to make the school safer.
Liars' Games is a witness protection romance suspense novel and the first in a series. The author is working on the next book in the series, tentatively titled 'The Secret Town'.
This book's unofficial sequel is Winter Tears, the third book in the Outsider's Mystery series. It's a cross-over book that briefly connects the two series.
Okay, so now I need to decide if I'll finish the sequel, The Secret Town, in which Juliet/Claire and family relocate to a town that is so secret even the residents don't know where it is. It's an off-the-grid town that pays no taxes, is unknown to the government, and has its own strange rules. Juliet quickly wonders if she's made another huge mistake.