Guess What? We Have a Book Cover!
28 Saturday Jul 2018
Yay! My new time travel mystery, Not Expecting This, has a wonderful book cover, designed by Ken Dawson of Creative Covers, and I want to share it with my readers. The book isn't out yet, but should be available in about a week and a half.
Here's the front cover: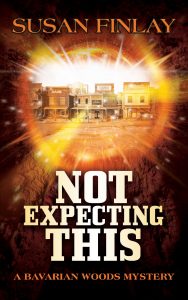 Here's the book description:
Pregnant, running from a bad environment, bounced around in foster care her whole life, and shunned by her father, seventeen-year-old Bailey Blackwood doesn't expect miracles, and it appears as if she isn't about to receive any.
Poor judgment has her accepting a ride from a husband and wife, unaware that she has placed herself in danger, about to be kidnapped. After she finally escapes, Bailey and the couple's dog end up in an abandoned mine that suddenly transports them back in time to an 1878 gold mining town where she meets the town's marshal, Wyatt Hawkins. Wyatt feels for the young girl, but he has his hands full, investigating a murder.
Meanwhile, teenager Ryan Hollander, a modern American who was swept up in a similar fashion and has been living with his family in 18th-century Germany, tries to return home through the portal there, but somehow also ends up in the Old West mining town. Alone and terrified, he fears he'll never see his family again.
When Bailey and Ryan meet, they realize the time portal isn't reliable and any hope of getting back to their time vanishes. Both must face the real possibility of being stuck in the past.
Not Expecting This is a story about family, guilt, regrets, and redemption.
Here's the full book cover: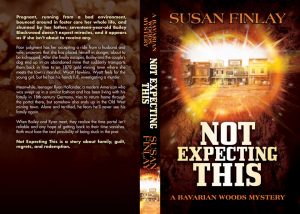 Not Expecting This is the third book in my Bavarian Woods Mystery series, but it can also be read as a stand-alone book. If you haven't read the first book in the series and want to, you can get the Kindle version of Inherit the Past free on Amazon for a few days.
https://www.amazon.com/Inherit-Past-Bavarian-Woods-Book-ebook/dp/B00PDUIJRI