Coming Soon! A New Book By My Son
23 Sunday Jun 2019
My son, Scott Finlay, has been writing off and on since he was a teenager. Now, in early July, he will publish his first novel, A Fatal Exception. I'm excited for him.
Like me, Scott writes mystery and suspense novels, only his are set in the future, while mine are in current times or in the past.  He has a different writing style than mine. I see his 'voice' as very fresh and current. I would describe his first book as part science fiction, part mystery, part cyberpunk, part techno-thriller, part dystopian, and part old-school private-eye.
I read the first draft of A Fatal Exception about a year ago and loved it. Now I'm eagerly awaiting the publication.
Here's the book description:
In a bleak future where daily smog warnings are routine and the politicians are dirtier than the environment, the people of Chicago turn to private investigators like Seven Sinclair when they want a case solved right. Seven isn't like most detectives since he's an android. He's not like most androids either. He's quirky and brazen and he's not chained down by the government-imposed privacy regulations. Sergeant Antonio Rizzo is a good cop in a corrupt town, and he's getting too old for the job. He despises technology, and the robot is like the personification of his object of hatred. When Seven's investigation into a simple hack leads to murder and all evidence points to him, he's forced to catch the true killer while he tries to stay out of Rizzo's crosshairs.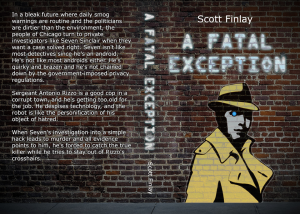 More books to come
Scott has another book scheduled to come out shortly after A Fatal Exception. His second book is much longer and is a somewhat different type of story–more epic, and one that I would call more dystopian and psychological and mysterious. It's also science fiction with a bit of politics, too. It's called Epoch. I actually read this one first and absolutely loved it.  I can't wait to see the reviews.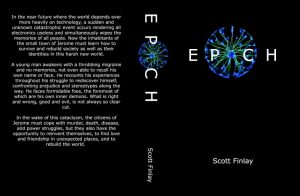 About the Author:
As a professional software developer, Scott Finlay is able to draw from his expertise to accurately describe the many technical and hacking details throughout the story (A Fatal Exception). He is an American living in Germany for the past six years, and this has given him a somewhat unique view on the world and its politics, and he drew inspiration from many of the issues he sees in the world to build his dystopian future.
https://www.facebook.com/ScottFinlayAuthor/?notif_id=1561208871234206&notif_t=page_fan