Meet the Author: Paige Daniels
22 Monday Jul 2019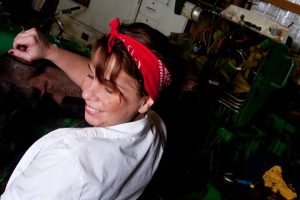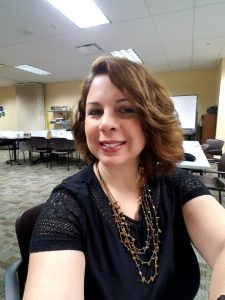 Hi, Paige! Welcome to Susan Finlay Writes blog site. Can you tell us a bit about your background? Where do you live? What kind of work do you do?
Hey, Susan! Thanks for having me on your blog! I'm an engineer, mom, slacker, daydreamer, and writer. I currently live in what feels like Hell's armpit, but you'd know it better as Indiana.
You write under a pseudonym. Why didn't you want to write under your real name, and how did you choose your pseudonym?
 When I started writing I went to this online peer review group called Authonomy, that's where we met. At the time A) I wasn't really confident in myself and I wasn't sure I wanted people to know about my hobby and B) I didn't think Tina Closser sounded author-y. So I used a mismash of my kids' names, Paige Daniels.
You have a brand new book, In the Service of the Guild, influenced by one of my favorite sci-fi series, Firefly. Is the book out yet? Can you tell us about the book? It's part of a new series, isn't it?
 I guess that depends on when this article "airs", but "In the Service of the Guild" will be out July 22nd. It is a new series called "The Singularity Wars". It follows a man in an elite guild of mercenaries who finds his life upended during a chance encounter. He finds himself running from his guild and the corporations that run the galaxy.
What inspired you to write it, and did you have to do a lot of research to write it?
Actually, I was inspired to write it while writing my full length novella in the same series. One of the characters is telling the main character a story. I kept thinking that it was a story that needed to be told. So with laser like focus I hammered out this story in like a month.
Do you have more books planned or already written in that series? When do you expect the second book to be out?
Yes, the novel referenced above "Project Eleutheria" will be out in October. I originally planned on releasing them together, but then I thought it might be nice to stagger the release a bit. It takes place thirty years after the first book. I wrote them such that you can read either first.
In the Service of the Guild isn't your first book and Singularity Wars isn't your first series. Can you tell us about your first series, 'Non-compliance'?
Yes, "Non-Compliance" will always have a place in my heart. It's a trilogy, with compendium of short stories on the side, that takes place in a lawless sector of the United States in the future. The government has deemed anyone not taking an implanted chip as non-compliant. This series follows a group that is trying to expose the secrets of this chip.
Who was your publisher?
For Non-Compliance it was the fine folks at Kristell Ink. For the current series, I decided to self-publish.
You've also been involved with some short-story collections. Can you tell us about those? How did they come about and what was your role?
Yes! Brave New Girls is a short story collection focused on smart girls who are the heroines of their own stories. I teamed with Mary Fan on this, honestly she does the heavy lifting. We were sitting around Facebook drinking beer, messaging each other bemoaning the fact there aren't many good smart heroines out there. One thing lead to another and here we are on book 4! That released earlier this month. I've also been included in "Thrilling Adventure Yarns" which released this year too. It's been a busy year for me!
What is your favorite review you've ever received on one of your books, and why?
I remember one reviewer said that Quinn, the male protag in the "Non-Compliance" series, was her imaginary boyfriend. I was tickled about that, because it meant I created a character real enough that someone actually wanted him as a BF.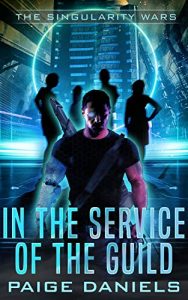 Who designed your book covers? Can you tell us about the design process? How did those covers come about?
The newest series I got Streetlight Graphics to do them. They actually did our Brave Girls books and I've always been impressed about their design and how punctual they are.
I had some vague ideas that I had floating in my brain and I tried to find some styles that I liked on Pinterest and just tucked a bunch of ideas away. Then when it was time for the cover I just barraged them with a ton of ideas like, "I'd like the guy to look like this picture, but the outside like that picture, and the robot like this one…" It was probably totally annoying to them. Anyway, like magic, they came up with some awesome covers.
You work in a high-tech profession. Do your tech skills and knowledge help you in your writing and do they influence the types of stories you write?
A bit maybe. I think one of the things it helps me with the most is explaining how things work in layman's terms. I hate trying to filter through a bunch of technical mumbo-jumbo when I read. I try to be as easy to read as possible and not make people have to stop and look up what certain technical terms mean.
For fun, if you could meet any book character, who would it be, and what would you do with them?
Hmmm… can it be any fictional character? If so, then I'd say General John Casey from Chuck. As some people know, I'm a huge Adam Baldwin fan-girl. The character, Quinn, mentioned above, was actually inspired a bit (by a bit I mean a lot) by John Casey and my husband. I'm going to Comic-Con in Indianapolis this summer and Adam Baldwin is going to be there. I'm going to try and get brave and hand him a copy of my book. I'll probably chicken out though…
I'm on Twitter, but it's been so long since I've been on there I can't remember my handle.
Facebook: @paigedanielsauthor
Website: www.nerdypaige.com
https://www.amazon.com/Service-Guild-Singularity-Wars-ebook/dp/B07TZFNLS8