A Fatal Exception and Its Sarcastic Robot Detective, Only 99 Cents
15 Thursday Aug 2019
If you like science fiction–or even if science fiction isn't your usual genre–check out A Fatal Exception. Why? Because it's much more than a science fiction novel. It has a murder mystery, a robot detective, social commentary, and last but not least–humor! It's getting great reviews AND it's on special promo right now in the U.S. and U.K . for only 99 cents. Oh, and it's written by my son, Scott Finlay.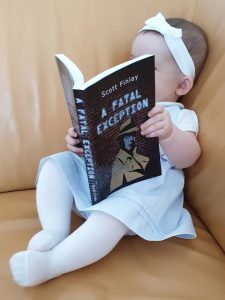 What's the story about? Well, let's start with the book's blurb: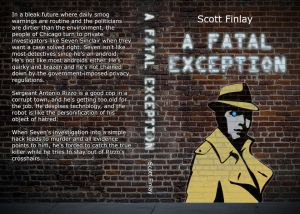 The cheeky, sarcastic robot detective, Seven Sinclair, is forced to use wit and hacking skills to prove his innocence in a murder case before the corrupt, gritty city can sink its concrete teeth into him.
In a bleak future where daily smog warnings are routine and the politicians are dirtier than the environment, the people of Chicago turn to private investigators like Seven Sinclair when they want a case solved right. Seven isn't like most detectives since he's an android. He's not like most androids either. He's quirky and brazen and he's not chained down by the government-imposed privacy regulations.
Sergeant Antonio Rizzo is a good cop in a corrupt town, and he's getting too old for the job. He despises technology, and the robot is like the personification of his object of hatred.
When Seven's investigation into a simple hack leads to murder and all evidence points to him, he's forced to catch the true killer while he tries to stay out of Rizzo's crosshairs.
Praise for A Fatal Exception:
"A cheeky playful modern-day murder mystery meal, heavily seasoned in Mickey Spillane stylish humor and over-the-top descriptive splashes, providing a sumptuous feast for any avid mystery reader." – 5 Star Review
"Unlike most stories which include hacking details, this one felt realistic and believable. I even feel like I also learned a little about hacking and security from reading it." – 5 Star Review
"Not your typical detective mystery. I believe what makes this so exceptional is the main character is an android and we are able to see even the most ordinary events through the eyes of this one called Seven. He is a superpower kind of hero who has an entertaining command of humor. There are some one-liners in the story that stopped me to allow for some hearty laughter. I asked myself, "Did I read that right?" and then I would read it again and howl with mirth. These little gems are peppered throughout the story and just really make it light up with subtle fun. I love this style of writing and I have to think that the author must be one fun guy to be around if these quips fly off his tongue throughout his conversations. The storyline is tidy with how it is put together. I had cause to speculate at every turn on whodunnit. At best, it makes you think whilst reading it and then gives you a reason to laugh and move on wondering just what will happen next. The action is there and it moves fast, keeping you on your toes with trying to solve the mystery as suddenly you are hit WHAM with another event that further muddies the puddles in the path of progress toward a conclusion. And, what a finale it is. It may not be the one you suspected all along and maybe it will. You must read to the end to find out. – 5 star review
"While humanity stays too long at the party, a smirky, even a megabit sad, robot detective named Seven navigates his way through future foul streets and a fouler digitally dealt murder. The more than human Seven hacks a tough ole Police Sargent's prejudices and he will stealthily download into your heart. I read this book in one sitting, didn't get to sleep like I needed to. It's been a while since that has happened. I've always loved the old Detective stories and this one has enough twisty classical characters to make me want more. Question, will Seven keep WD40 in his empty desk drawer or maybe a can of air spray to keep clean and lubricated to face the next smoggy mystery? I'm waiting with you, Seven Sinclair. – 5 star review
"This book is everything I would not normally read. I'm not a computer person, not into robots or Androids and not into any thing futuristic. A friend told me I would like this book so I gave it a try and I loved the book can't wait for the next. Scott Finlay had me on page one. Seven is a wonderful character, smart, funny, charming and draws in the reader. References to computers are quick and to the point so the reader knows what they need to understand.
Futuristic references are fun and actually make sense. The entire book takes place in the future so it is interesting to see what Scott's vision of the future is in this one book. – 5 star review
"I love it. Its funny and sarcastic. The main character says exactly the things I wish I could say without getting in trouble. Its a solid mystery with a kind of old fashioned style yet at the same time it feels pretty modern. it touches lots of social and political topics in a pretty subtle way like environment, corruption, racism, advertising spam and guns. I am looking forward to a sequel. – 5 star review
"I am not normally into futuristic dystopian type books but this one grabbed me from the first page. In a futuristic smog written corrupt Chicago android private detective Seven Sinclair lands his first solo case when a man asks him to investigate the theft of a large amount of kryptocurrency. Seven finds himself embroiled in a murder plot with deceit and flawed humanity playing its part. But he persists and the whole case ends up with a dramatic denouement. Seven is actually very human, cheeky and dedicated and I wanted him to succeed from the get go. An android PI is a very original idea and this made it for me. I can't wait to read other books by this author. – 5 star review
Author Bio: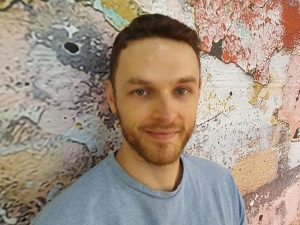 Scott Finlay, born in 1989 in the United States, is a professional software developer with an expertise in computer security. For many years he was active in the hacker scene and there known and respected as a skilled white hat hacker. In his daily life he designs complex systems, investigates disruptions, and sometimes tries unusual solutions by thinking outside the box. He draws on his architectural skills while designing his stories and his debugging skills are in many ways similar to those of a detective. Through his technical expertise, particularly regarding software and hacking topics he is able to write accurately.
In 2012 Scott moved to Germany for love and started a family there. As an American living in Europe, he has a somewhat unique view on the world and its politics, and draws inspiration from many of the issues he sees in the world to build dystopian settings and make social commentary.
You can read more about Scott and his book in my "Meet the Author: Scott Finlay" interviews with him on this website.  You can get his books, A Fatal Exception and Epoch on Amazon.