Cover Reveal for The Secret Town
13 Friday Sep 2019
Over the past few months, I've talked about my work-in-progress, The Secret Town, sequel to Liars' Games. That book now has a book cover. Getting a book cover is one of the most exciting times for an author. It's kind of like when you're pregnant and get an ultrasound to find out your baby's gender.
Yesterday, I also wrote the blurb for the back cover. The book is still gestating, so to speak. It's with my book editor. As soon as I get the edits from him, I can finish up the book.
I'll update you on the book's progress once I have a release date (birth date) for the book.
Meanwhile, here's the book cover and the blurb: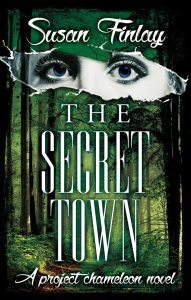 Blurb:
Steve and Claire Jensen, a frightened couple who ran away from the Witness Protection Program, are desperate to protect their young children from the bad men targeting the family and the government officials who want to force them to testify despite the danger.
Unexpectedly, the couple gets the offer of a lifetime—refuge in a 'secret' town that is off-the-grid and free of government control. The town takes care of its own; the only requirement is that all healthy adults, except caregivers, work in the town.
Soon after they arrive, the family can't believe their good-fortune. The idyllic town nestled in a wooded canyon offers peace and quiet and a small bustling community. But they discover that no place is perfect—government or not, there's always someone in charge.
After weeks there, Claire begins to notice peculiarities. What is it about this place that gives her goosebumps? Is there a bigger secret than the town's location, or is she paranoid because of the nightmares she's endured? When Steve begins to notice, too, they don't know if they're both over-reacting, worried over nothing, or if there's a hidden agenda to the 'secret' town.