Release Day for the Finlays
10 Thursday Oct 2019
I've been preparing for this exciting day for weeks now, writing, editing, and proofreading my newest book. The amazing Ken Dawson, of Creative Covers in England designed the book cover, which I love. Now it's time to send the book out into the world. I hope you like it. The Secret Town, the long-awaited sequel to my suspense novel, Liars' Games, is now available in Kindle format on Amazon. The paperback version should be available later today.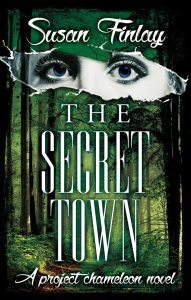 In this new book: Steve and Claire Jensen, the frightened couple who ran away from the Witness Protection Program in Liars' Games, are desperate to protect their young children from the bad men targeting the family and the government officials who want to force them to testify despite the danger. Unexpectedly, the couple gets the offer of a lifetime—refuge in a 'secret' town that is off-the-grid and free of government control. The town takes care of its own; the only requirement is that all healthy adults, except caregivers, work in the town. Soon after they arrive, the family can't believe their good-fortune. The idyllic town nestled in a wooded canyon offers peace and quiet and a small bustling community. But they discover that no place is perfect—government or not, there's always someone in charge. After weeks there, Claire begins to notice peculiarities. What is it about this place that gives her goosebumps? Is there a bigger secret than the town's location, or is she paranoid because of the nightmares she's endured? When Steve begins to notice, too, they don't know if they're both over-reacting, worried over nothing, or if there's a hidden agenda to the 'secret' town.
That's not all of my news. Remember, I said it's release day for the Finlays. My son, Scott Finlay, also has a new release today. It's a short science fiction story on Kindle called, The Test Subject.
In this thirty-seven page book: Imagine being suddenly and violently ripped away from your home and everything you knew and brought to a strange and terrifying new world occupied a race of monstrous giants. This is exactly what happened to one poor soul whose life became a constant science experiment, leaving the pitiful human weakened to the point of immobility and blindness. Soon the only thing keeping the captive sane was the thought of escape from this surrealistic nightmare and revenge against the wardens and the beings they reported to.