Cover Reveal for Reflections in the Dark
21 Wednesday Oct 2020
Guess what? My newest book, Reflections in the Dark: A Crisscross Time Travel Mystery, has a wonderful book cover.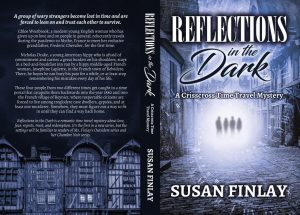 The cover was designed by Ken Dawson of Creative Covers, a U.K. company.
What I haven't told you about this book yet is that I actually came up with the characters, idea for the story, and six chapters ten years ago–before I published any books. I set it aside and worked on many other books after that, but I never forgot about the story.
Earlier this year, I was working on two other books, another sequel to Breadcrumbs and Bombs (Berlin and Betrayal) and the first sequel to The Handyman (The Lonely Chateau). I expected to finish and publish Berlin and Betrayal first. I have almost half of it written already. But with the pandemic going on, I needed something lighter (not about WWII) to work on.
Then I thought about this time travel novel that has been patiently waiting to come to life. I opened up the file on my computer and started reading the chapters that I'd written all those years ago. Well, I have to tell you my writing has improved in ten years. I couldn't use much of what I'd written, but the characters and the basic plot were definitely usable. Thus, my time travel novel ignited a fire in me and gave me something fun to work on. I made many changes to the basic idea and changed up the plot quite a bit. This book's time had finally come and it gave me great pleasure. I hope that readers will find it as fun to read as it was for me to write! I love this book because it's a great escape from the pandemic and the characters grow throughout the story.
I expect to publish Reflections in the Dark next week. After that, I'll take a couple months off and then work on finishing Berlin and Betrayal. I won't forget The Lonely Chateau–it needs readers and love! Following those books, you just might see book number five in my Outsiders series. I've missed Dave and Maurelle, the sweet grandmothers, and Simone and her twins.
Here's the blurb for Reflections in the Dark:
A group of wary strangers become lost in time and are forced to lean on and trust each other to survive.
Chloe Westbrook, a modern young English woman who has given up on love and on people in general, reluctantly travels during the pandemic to Mythe, France to meet her reclusive grandfather, Frederic Chevalier, for the first time.
Nicholas Drake, a young American hippy who is afraid of commitment and carries a great burden on his shoulders, stays in a bed-and-breakfast inn run by a hippy middle-aged French woman, Josephine Lapierre, in the French town of Belvidere. There, he hopes he can bury his past for a while, or at least stop remembering his mistakes every day of his life.
These four people from two different times get caught in a time portal that catapults them backwards into the year 1880 and into the French village of Reynier, where respectable citizens are forced to live among troglodyte cave dwellers, gypsies, and at least one murderer.  Somehow, they must figure out a way to fit in until they can find a way back home.
Reflections in the Dark is a romantic time travel mystery about love, fear, regrets, trust, and redemption. It's the first in a new series, but the settings will be familiar to readers of Ms. Finlay's Outsiders series and her Chambre Noir series.