Want to Time Travel With Me?
12 Sunday Dec 2021
In these difficult times, have you ever wished you could time travel to escape? Or maybe you've wished you could go back in time and change something in history or even to be able to witness some big event? I think those are some of the many reasons people are fascinated with time travel stories, TV shows, and movies.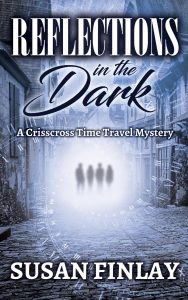 I've written four time travel novels because I love time travel stories. My newest is called Reflections in the Dark. It has something for everyone: Intriguing characters, unusual setting, murder, mysteries, and romance.
A group of wary strangers become lost in time and are forced to lean on and trust each other to survive.
Chloe Westbrook, a modern young English woman who has given up on love and on people in general, reluctantly travels during the pandemic to Mythe, France to meet her reclusive grandfather, Frederic Chevalier, for the first time.
Nicholas Drake, a young American hippy who is afraid of commitment and carries a great burden on his shoulders, stays in a bed-and-breakfast inn run by a hippy middle-aged French woman, Josephine Lapierre, in the French town of Belvidere. There, he hopes he can bury his past for a while, or at least stop remembering his mistakes every day of his life.
These four people from two different times get caught in a time portal that catapults them backwards into the year 1880 and into the French village of Reynier, where respectable citizens are forced to live among troglodyte cave dwellers, gypsies, and at least one murderer. Somehow, they must figure out a way to fit in until they can find a way back home.
Reflections in the Dark is a romantic time travel mystery about love, fear, regrets, trust, and redemption. It's the first in a new series, but the settings will be familiar to readers of Ms. Finlay's Outsiders series and her Chambre Noir series.
What people are saying about the book:
'Two sets of travelers, from two different times, arrive together and learn to depend on and trust each other. A story that will leave you wondering what is next for this band of time travelers. Can't wait for a sequel.'
'I did enjoy this quick read. The characters kept me interested and I did not figure out the killer. There were a couple editing misses toward the end of the book, (info was repeated) but I appreciate that the book was free of any bad language or sexual scenes. Overall a pleasant read and I will check out her other books.'
'Reflections in the Dark is a captivating time travel story full of surprises. For one, I hadn't expected it to contain a nail-biting murder mystery, and it was an excellent mystery full of twists and turns, including the unexpected resolution. The story forces unlikely friends together, each coming from different eras, and launches them all a century and a half in the past where they're forced to somehow blend in and make a living while trying to find a way back home. In addition to the exciting mystery, this is a story containing diverse, relatable, and believable characters, each with a complex past and inner demons to overcome. The character development is superb, and the author really paints a picture of late 19th century France. I'm looking forward to the next Crisscross Time Travel Mystery.'
I hope you'll check it out on Amazon and get a copy for yourself and get one as a Christmas gift for a family member or friend. While you're on Amazon, check out my other books. I have a three-book time travel series called Bavarian Woods Mysteries.