The Story Behind The Story: The Secret Town
16 Saturday Sep 2023
After writing Liars' Games about a young English woman in the U.S. Witness Protection Program, I knew I wanted sequels. What I didn't know was where the story would go. Several years ago, while driving across country with my husband and daughter, I had a sudden idea.
We were driving on a freeway in a mountain area on Labor Day. We'd made hotel reservations ahead of time, but decided we didn't want to stay in that hotel after arriving. That meant no place to stay the night. Our final destination was still at least a day's drive away. We kept checking hotels along the way and found them all full since it was a major holiday. Only choice was to keep driving.
Soon, it would be getting dark. As my husband drove, my daughter and I kept looking for road signs. In a lush, wooded area, we saw an exit sign that read: Secret Town Road. We didn't take the exit, but from that point on, my daughter and I were hooked. What an intriguing vision it created in our minds. I took out my little notebook and wrote down the name, then started writing mystery plot ideas.
We finally found a hotel about a half hour later. The next day we arrived at our destination and had a good trip. All the while, though, my creative brain was churning out more ideas.
A couple years later, I started seriously planning the story. I started with a description of my little secret town, a hidden oasis in the mountains–a town that was off-the-grid and perfect for people who needed to hide from bad guys. I detailed everything about the town's rules and some of the main characters who lived there. For this story, I didn't outline at all but let the story unfold organically. That was great fun, because the whole book was a mystery, even to me.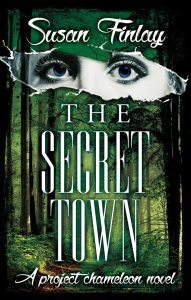 Here's a description of The Secret Town:
Steve and Claire Jensen, a frightened couple who ran away from the Witness Protection Program, are desperate to protect their young children from the bad men targeting the family and the government officials who want to force them to testify despite the danger. Unexpectedly, the couple gets the offer of a lifetime—refuge in a 'secret' town that is off-the-grid and free of government control. The town takes care of its own; the only requirement is that all healthy adults, except caregivers, work in the town. Soon after they arrive, the family can't believe their good-fortune.
The idyllic town nestled in a wooded canyon offers peace and quiet and a small bustling community. But they discover that no place is perfect—government or not, there's always someone in charge. After weeks there, Claire begins to notice peculiarities. What is it about this place that gives her goosebumps? Is there a bigger secret than the town's location, or is she paranoid because of the nightmares she's endured? When Steve begins to notice, too, they don't know if they're both over-reacting, worried over nothing, or if there's a hidden agenda to the 'secret' town.