The Story Behind the Story: Liars' Games
06 Friday Oct 2023
I already talked about The Secret Town, which is the sequel to Liars' Games, but now I'd like to tell you about the first book.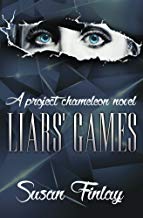 Liars' Games was actually one of the first books I ever wrote. I'd always been fascinated with geniuses and knew I wanted to create one as my main character. But what would be her story? I wanted a fish-out-of water type of story. Making her an Englishwoman living in the U.S. was a start but not enough.
I did a lot of research and decided my character would be a professor with a love of learning. She's particularly good at mathematics. Next, I would place her in a dangerous high school, beginning a job as the principal. In the new job, she's clearly in over her head.
Okay, now I was getting some drama and possibility of conflict. But why would this genius take that job and why would she stay in such a job? She needed something holding her there.
After more research, I came up with the idea of putting her in the Witness Protection Program, unable to just change jobs and move on. Something her former boyfriend had gotten involved with had landed her in the Witness Protection Program. That meant, she went where they told her to go. Period. To make matters worse, she hates lying and because of her predicament, her name, her history, her background are all made up and she has to struggle with lies she doesn't want to tell.
I hope you'll check it out.
About the book:
Juliet Powell, a former child-prodigy and math professor, wants her old life back—the life where she was in love and happy, the life where she was safe and sheltered, the life where she was well-respected and admired. What she has, instead, is a life in hiding and only partially protected under the witness protection program. She tells herself she will eventually adapt to her new life, but with each new identity comes more stories and more chances of getting them entangled. She's getting further and further away from who she really is. When she blows her cover yet again, her handler warns her this is her last chance. She needs to blend in like a chameleon and play the game, but how can someone who has always believed in honesty suddenly become a convincing liar? Compounding her problem with this new move, a political maneuver not of her choice and not within the usual rules of witness protection, ensconces her in the role of principal at a Denver high school full of gangs, drug dealers, and disgruntled employees. And then, when she discovers that a stranger is watching her and her young son, and her handler can't or won't move her, she must decide whether to run away and take her chances, or stay and fight to make the school safer. 'Liars' Games' is a romantic suspense novel, the first in the Project Chameleon series. The second book in the series,' The Secret Town', is now out.