Sedona Photo Essay Part 1: Our Safari Jeep Tour
21 Friday Jul 2017
This week my husband, daughter, and I spent a day and a half in one of the prettiest places in the U.S. Sedona, Arizona. It's approximately two hours north of Phoenix by car, and well worth the drive.
On our first day there we spent time browsing the shops in town and then doing some hiking near our hotel. The following morning we headed over to Safari Jeep Co. for our early morning jeep tour. The tour we selected was the Outlaw Tour, a three-hour adventure. It was our first ever jeep tour and the three of us had the jeep to ourselves–well, accept for our driver/tour guide.
Our guide, Brandel, was amazing. He can drive virtually any off-road vehicle anywhere. He's funny and entertaining, too. If you get him as your tour guide, be sure to ask him about his rattlesnake encounter!
He began our journey along the outlaw trail by giving great advice, something like: don't tense up, don't be scared of the bumpy ride, let your body stay loose and let it bounce along with the jeep. That way you won't get a headache or have sore muscles the next day. He worded it better and I can't remember his exact words, but it doesn't matter. It worked!
The beginning of the ride was through the town, of course, but soon we were out in the desert and bouncing along the rugged outlaw trail. I took photos whenever we slowed down or came to a stop. I was surprised to find the pictures all came out, even when I was zooming in on the hills.
It rained the previous night, so we did encounter some good puddles. Our driver was careful to make sure we didn't get wet (though he loved getting the jeep's tires washed).
We saw a cute lizard on a plant alongside the jeep, and the driver stopped so I could get a good photo. You'll have to look closely, though, because the lizard is well-camouflaged.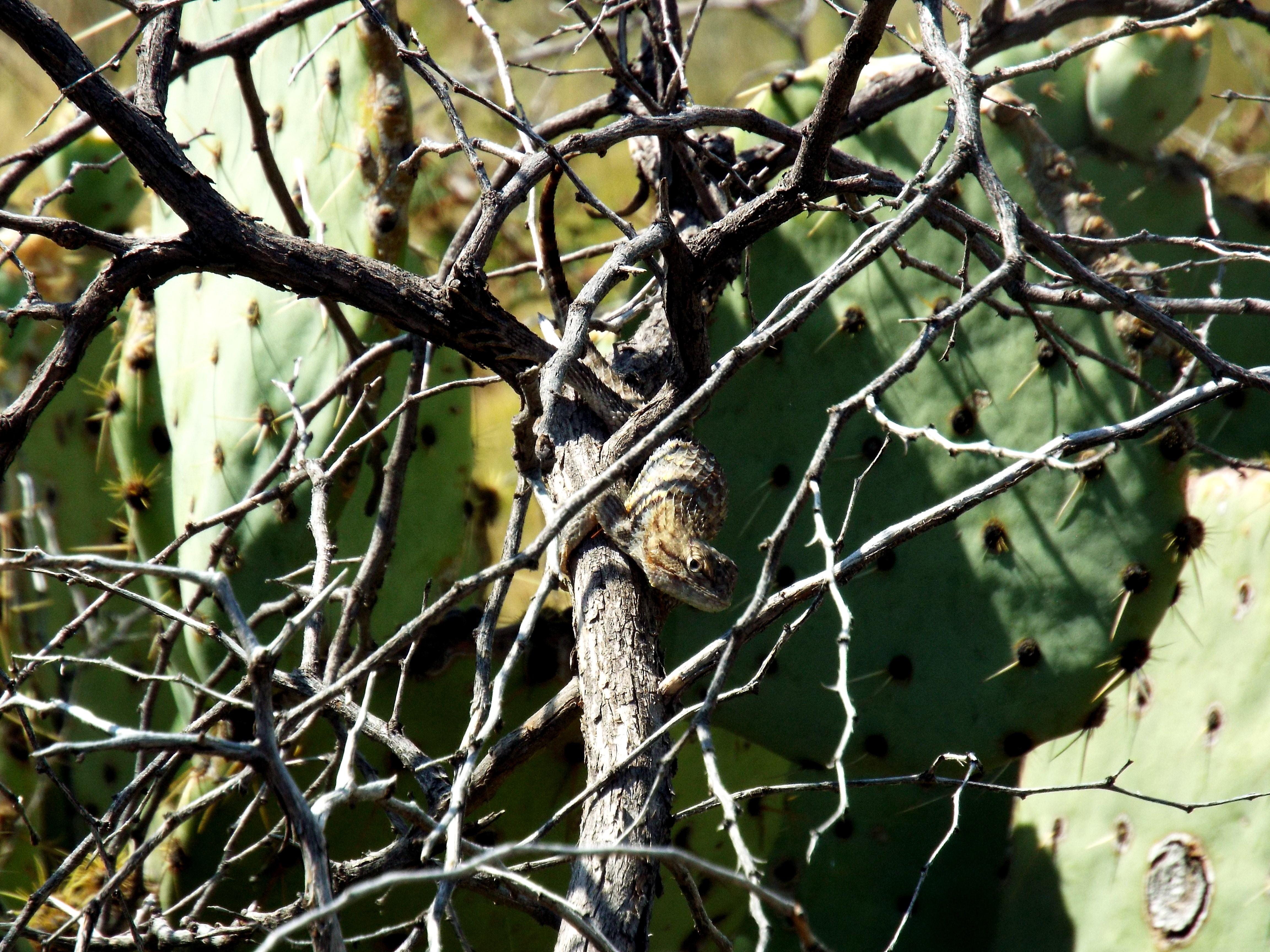 You might be surprised to find out that jeeps aren't the only vehicles out there on the bumpy rode. We kinda played tag with a group of ATV riders.
Around the halfway mark, we stopped and got out to stretch our legs. Brandel showed us some interesting things while we walked around. That's Brandel standing beside the jeep.
It wasn't long after we climbed back aboard that the trail got really bumpy and included some steep downhill maneuvers. All was good, though. And we were delighted to see a cave on this outlaw trail!
The final part of our journey got us up close to some beautiful red rock formations. Amazing! I highly recommend Sedona as a vacation spot and Safari Jeep Tours as an adventure.